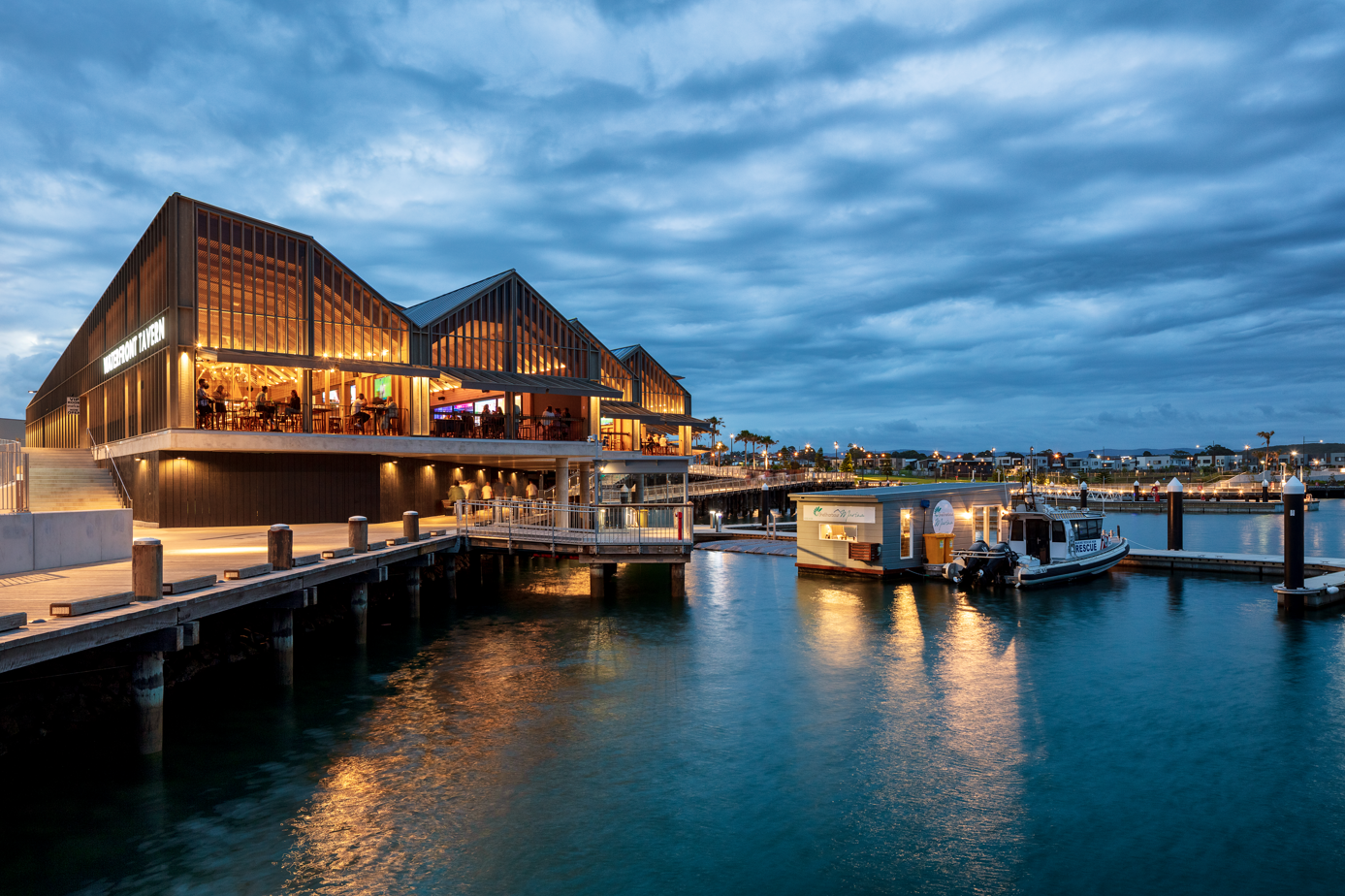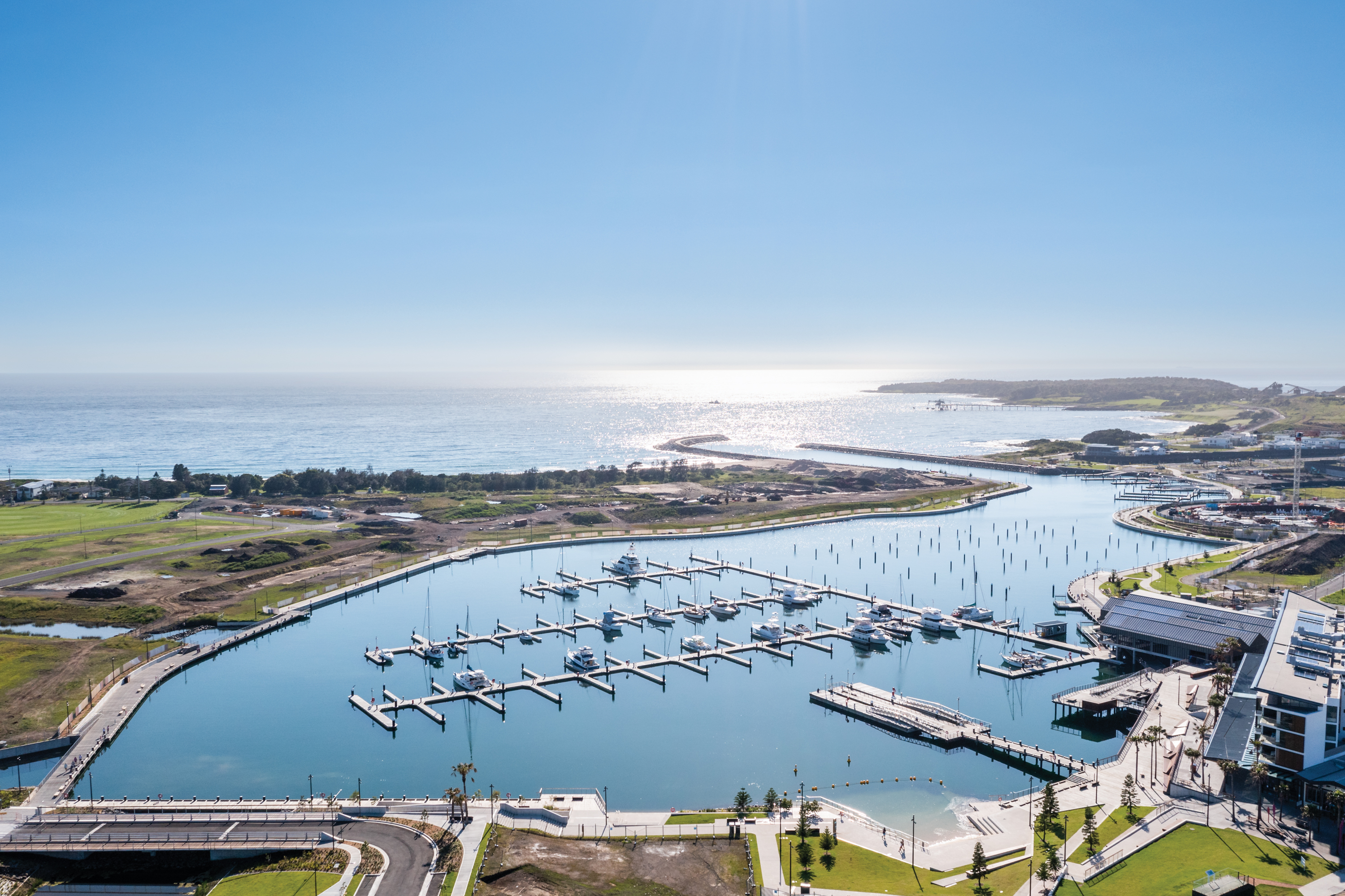 To describe Shellharbour Marina as highly anticipated would be something of an understatement. In fact, when this stunning new marina and harbour opened on the NSW South Coast last October, it was the realisation of a shared vision three decades in the making. We caught up with Shellharbour Marina Director Les Binkin to find out more about this impressive new marina, which offers an amazing on water lifestyle.
What factors make Shellharbour Marina special? Shellharbour Marina is unique on the NSW South Coast. It is the flagship of The Waterfront, Shell Cove, a major coastal master-planned development located within the Shellharbour local government area. The man-made in-shore harbour provides safe haven for vessels within the 270 berth marina. We've had some significant storm events this year alone and Bellingham Marine's marina structure performed perfectly. We're also lucky to have staff with a wealth of marine industry experience.
We're situated within Shell Cove Harbour, which has direct access to the Tasman Sea. So, you can come straight out of open water and within about 500 metres you're in a safe and very well protected harbour. The marina is just 50 nautical miles south of Sydney Harbour, 30 nautical miles north of Jervis Bay, and only 213kms, or 2.5 hours drive, from Canberra. So, you have that easy access to both Sydney and Canberra, and we're a good base to explore the rest of the NSW South Coast.
The Waterfront Dining Precinct is literally just metres away from the marina. Easy access to these shopping and dining options is a real asset, and something many marinas don't have. It's particularly appealing to cruising vessels. If you're coming through for a night or two, you don't need a car to reprovision your boat or enjoy a great meal. We also have a beautiful boardwalk area around the foreshore which is nearly 3km long leading you on walks to two pristine surf beaches and the Bass Point Reserve.
Can you share some background on the history of the new harbour, marina and surrounding community? In the early 1980s as a result of the downturn in steel manufacturing, Shellharbour City Council considered options that would help stimulate the local and regional economy. Council embarked on one of the most ambitious development partnerships in the history of Australian local government. They moved and rebuilt the former golf course in a new location nearby to accommodate the project. We now have a very well-regarded golf course, The Links Shell Cove (linksshellcove.com.au), which is another drawcard for boaties who also like golf. If you remember to pack your golf clubs on your boat and want to play a couple of rounds of golf, that's something our marina staff can arrange for you.
Talk us through some specific features of the marina. Stage one of the marina opened in late October 2021, with 145 berths. Our fuel system opened in stage one with both high and low flow diesel (40, 80 and 160 litres flow per minute) and pulp petrol. By the end of 2022, we will have our Marina Services Building delivered. This will have all the client amenities such as a club lounge and bar, commercial laundry, individual and family ensuites and food preparation facilities. It will also be the new home of our marina office. There will also be storage available for clients who want to store equipment or gear while going out on a day cruise.
Stage two of the marina will come in late 2023, with an additional 125 berths being added. In 2024, our Boat Maintenance Facility and dry storage will open. This will include a 120 boat dry stack, undercover work area for 30 metre boats, and a 100 tonne Travel Lift, catering to vessels up to 8.9 metres wide and 98ft/30m in length. It's a very wide travel lift which makes it perfect for the catamaran market. We will also have a full suite of marine services, commercial tenancies, and chandlery spaces in that building as well. It's a line-up that we hope will attract boats from all over the country to Shellharbour Marina.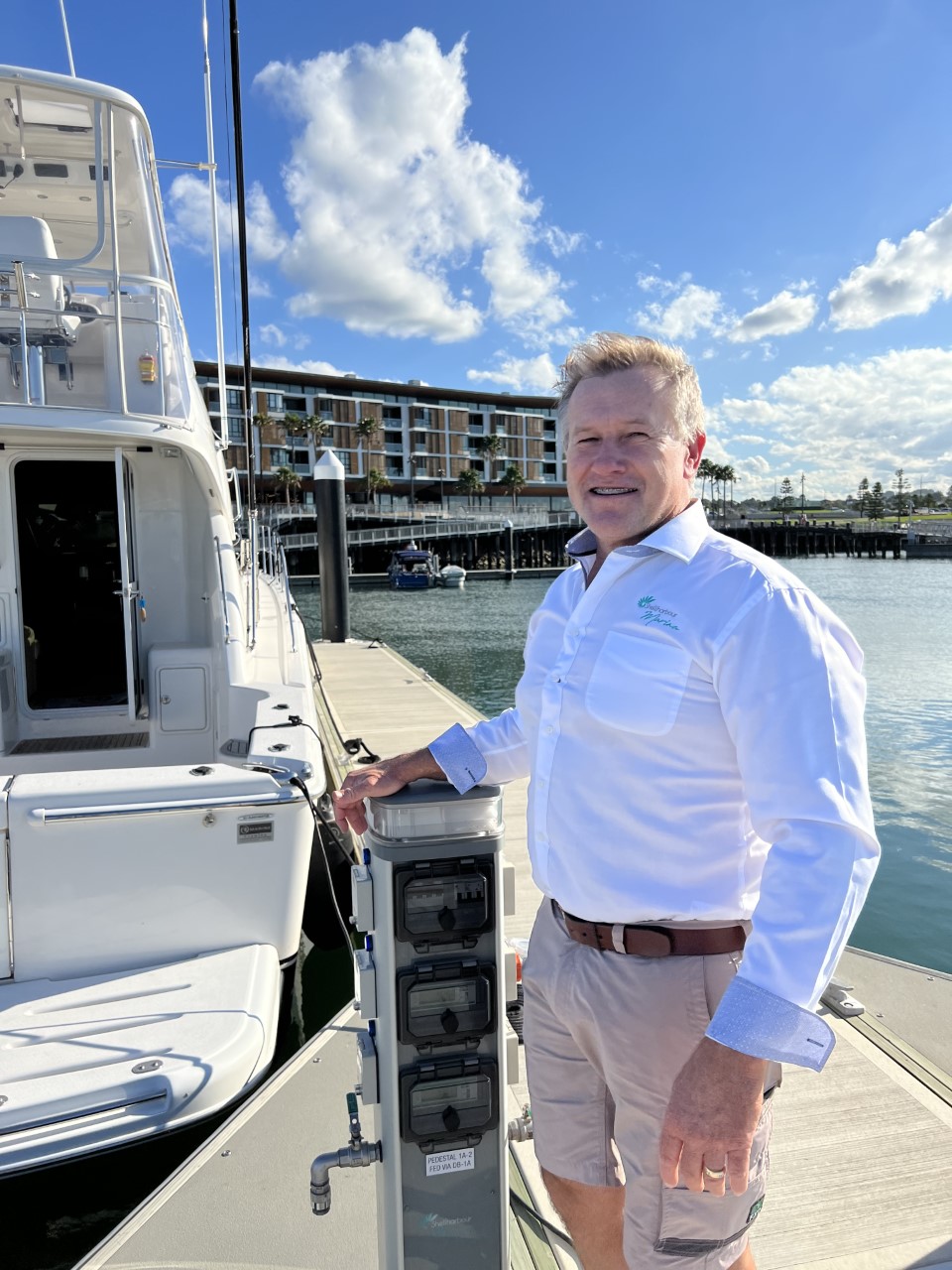 You highlighted the experience of your staff. Why is it so important to have well-trained and professional marina staff? The training and professionalism of our staff is a huge part of the marina experience – it ultimately works to the advantage and benefit of our clients and their boats. With a combined 50 years' experience in the marina industry, our management team is highly experienced in marina operations and boatyards. Ben Schooley, our General Manager at Shellharbour Marina and myself are both Certified Marina Managers (CMM). This is an internationally recognised qualification awarded through the Marina Industries Association (MIA).
The professional development of all our marina staff is also a high priority. Our staff participate in MIA training courses and programs, covering topics such as storm preparedness and environmental spills. This not only ensures that our customers and their boats are well taken care of, but industry best practice also helps our staff protect this beautiful and diverse environment.
Many of our readers are also fishos. We've been told that the offshore fishing around Shellharbour is pretty great? It definitely is. We already have a number of clients who love fishing and we really want to encourage game charter boats to consider basing themselves out of our marina as well. One of the reasons the fishing is so good here is because the continental shelf is fairly close. It's only about 20 miles offshore. There's also a lot of bottom structure out there. That lends itself to some great offshore fishing! The Shellharbour Game Fishing Club held their Blue Water Classic here in March. It was their first fishing competition to be based out of the marina. The lucky winner took home a $50,000 prize for catching the heaviest marlin which was over 220kg!
We've also heard a range of marine life already call Shellharbour Marina home? With the harbour's close proximity to Bass Point Reserve and Bushrangers Bay Aquatic Reserve, marine life has quickly flourished in the marina. Grey nurse sharks have called our harbour home since it opened, which is fantastic. We have also seen penguins, dolphins, turtles and seals, at times just outside our marina office. We're very conscious of looking out for our environment and I think it speaks for the quality of our water and how the marina structure has created its own eco-system. It shows marinas can work together with the environment.
Shellharbour Marina Facts
Lat: 34° 35' 17.6064"
Long: 150° 52' 10.524"
* 270 berths up to 35m.
* Both permanent and casual berthing available.
* Protected harbour entrance which is 80m wide.
* Minimum 3m deep Inner Harbour.
* 4.4m deep berths within Outer Harbour.
* Marina office open 7 days a week.
* Highly experienced and friendly staff.
* High and low flow diesel (40, 80 and 160 litres flow per minute) and pulp petrol. Pump-out available.
*Restaurants, bars and shops for provisions just metres from marina.
* Travel Lift, dry storage and full service boatyard coming soon.
For more information visit shellharbourmarina.com.au or call (02) 4250 4100.
For boating news, features and interviews, subscribe to Nautilus Marine Magazine here.