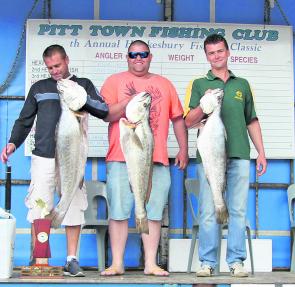 Nautilus Marine Insurance is proud to support the 21st Hawkesbury Classic, held over three consecutive days on the Hawkesbury River, by Pitt Town Fishing Club. The Hawkesbury Classic started as a small competition many years ago, and is now one of NSW largest competitions, considered by many to be the one to win.
The weather conditions on the day were not favourable for fishing, but the biggest dedicated estuary competition in Australia has a habit of bringing out the best in the competitors. True fishermen and women battle through all elements to try and catch that winning fish, and the weekend of the 8-10 November saw no exception. Approximately 600 anglers did battle to be crowned the Hawkesbury River Champion.
Overall winner from the Open sction was Craig Williams, with an 11.2kg Jewfish. Details of the other winner are shown below.
Two boats were given away on the day, donated by the major sponsor, a raffle boat and another bigger boat as a lucky door prize. In order to take part in the lucky door draw anglers had to register and be present on the day of the draw. On the day the lucky door prize boat was won by local junior angler Lochlan Chugg, one of the best early Christmas presents a young angler could hope for.
The organisers of the Hawkesbury Classic host massive auction on the day, providing plenty of bargain opportunities and helping to raise more funds for charity. The organisers extended special thanks to local Hawkesbury Radio personality, Steve Wilkins, who did a great job running the Auction.100% of proceeds of the Hawkesbury Classic Fishing Competition goes to local Charities, since its inception the competition has raised approximately $500,000 for charity. The raised by the 2013 Classic will be donated to the Special Education Unit for Underprivellidged Kids at the Windsor Park Public School and, Pitt Town Public School.
The support that the organisers are able to provide to the Special Education Unit at Windsor Park, through the money raised during the Hawkesbury Classic, is a cause close to their hearts. The Special Education Unit is the only place in the Hawkesbury region that caters for children with learning disabilities, despite this, the unit does not receive separate funding. Children with special learning requirements are given the classroom support they need, while being able to mix with their peers in the playground. You can find out more be visting the Windsor Park Public School website.