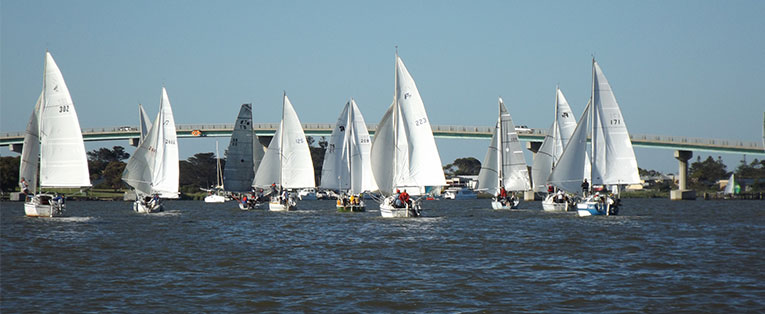 The Christmas Holidays are a great time to take a well-earned break away from it all, but that tricky period between Christmas and New Year can leave you wondering what to do. Goolwa Regatta Yacht Club has bridged that gap with the Annual Nautilus Marine Insurance Christmas Twilight Series, which took place between 27-30 December 2014.
"This is the second year that Nautilus have been involved with this Regatta, and it's fantastic to be involved in something that brings the sailing community and families together, especially during the festive period." stated South Australia Regional Manager, Trish Flaherty.
The first night of the event got off to a great start with 29 yachts out on the water, and 15+ knots of wind, which provided the crews with plenty of breeze to get them round the course. The second evening saw winds decrease slightly to 12-15 knots. A downwind start made for excellent spectator viewing, as attested to by the number of yachts moored on the water to watch the race.
Unfortunately, the third night of racing was cancelled as strong winds made conditions to dangerous, but the Christmas Party atmosphere continued in the Club House with delicious Yiros on offer and the bar open.
The final race, and the series were won by the owners of Dolhpin in the Spinnaker section and, Chandler's Breeze in the non-Spinnaker Section. The final race was sailed in about 20 knots of breeze and with the wind having blown the water away, the bottom of the river was a lot closer to the top (which a number of skippers found out the hard way)!
Images via Goolwa Regatta Yacht Club