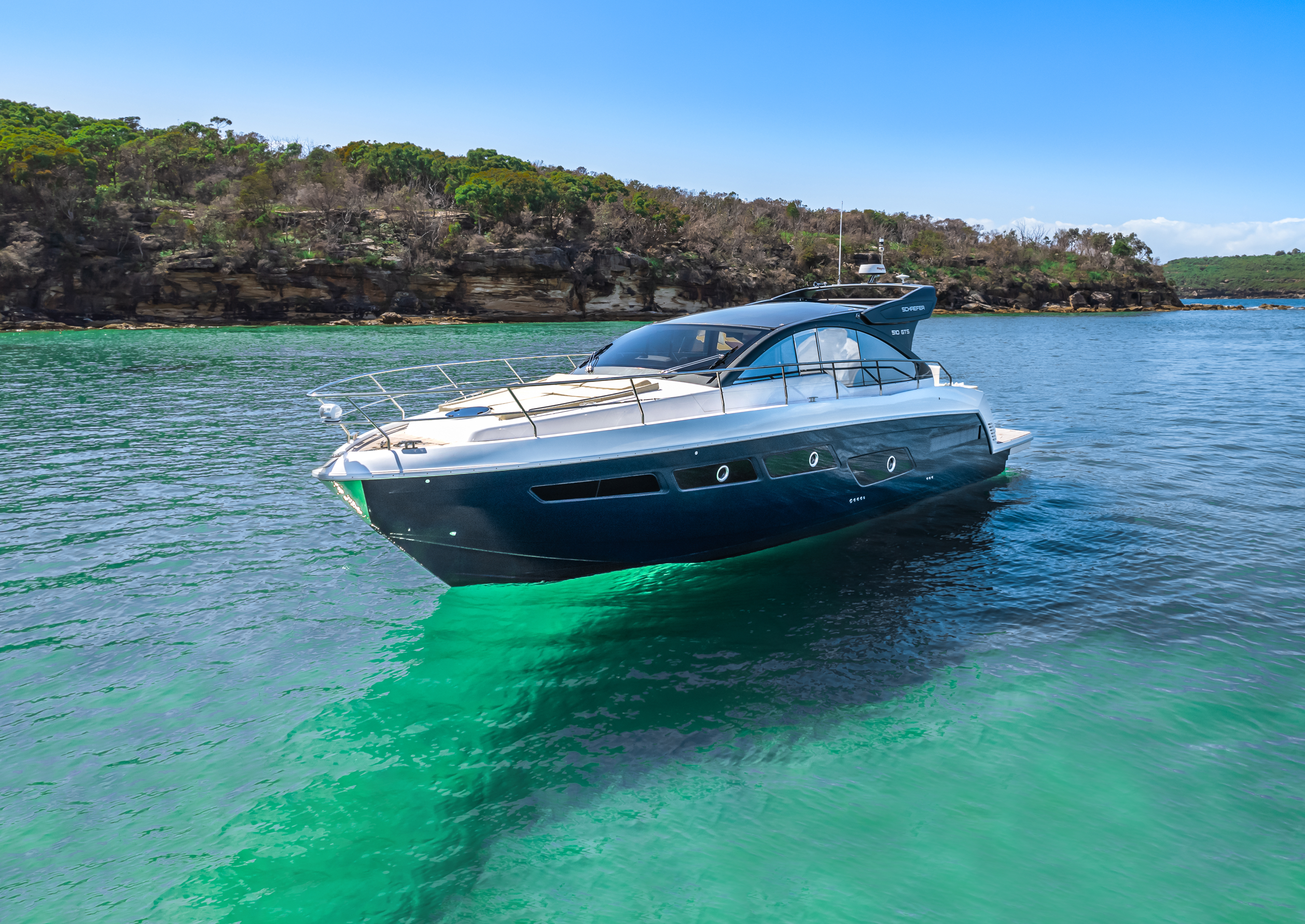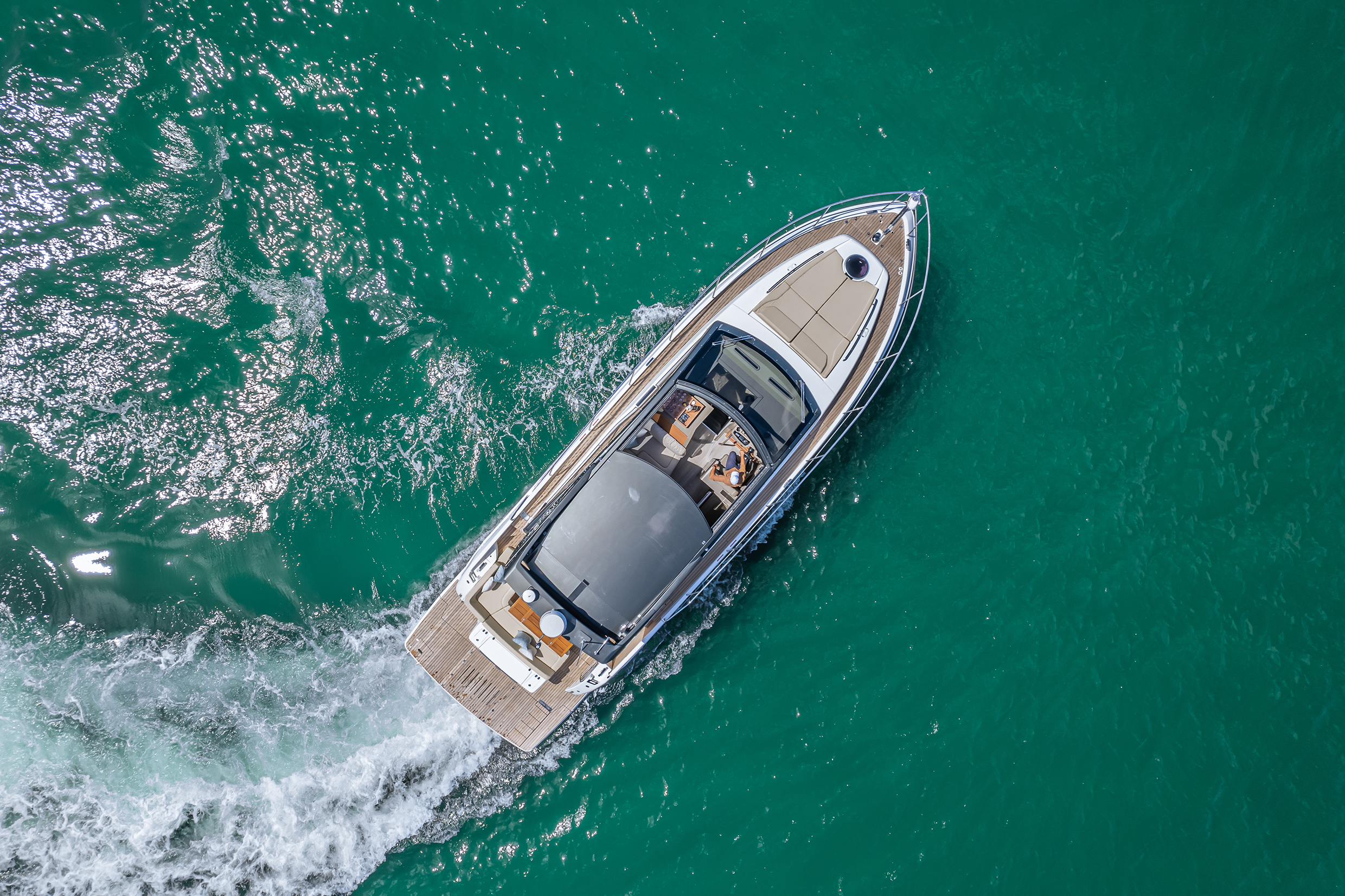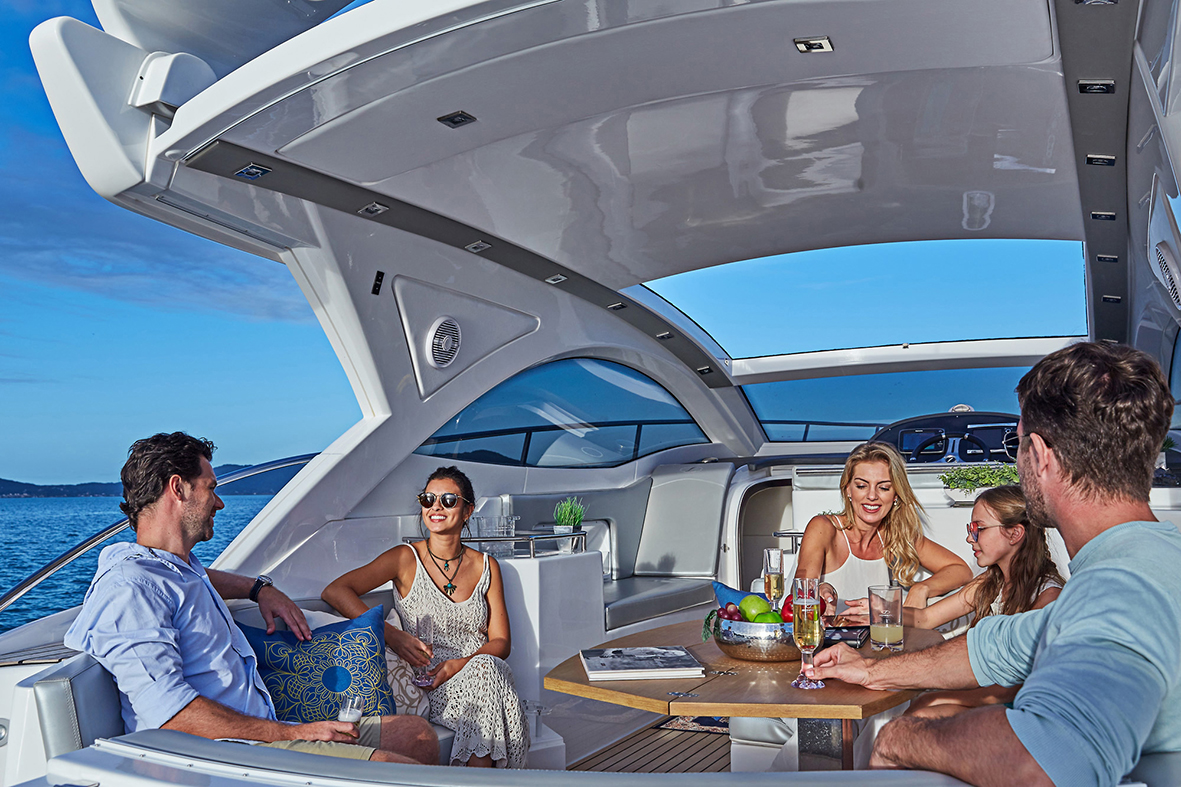 We caught up with Schaefer Yachts Australia Chairman and Co-Founder Mark Johnston to get the lowdown on this Brazilian motor yacht brand which is now turning heads on our waterways.
Schaefer Yachts has a full range of recreational boats from modern 33-foot Med-style day boats to 25m superyachts. What unifies the range?
Schaefer Yachts is where design meets luxury and performance on the water. These boats look great, ride smoothly, and are extremely well thought out for maximising enjoyment on the water. Onboard you will find all the leading international brands of marine equipment you'd hope for on any premium boating brand. Then Schaefer's modern designs squeeze more into their footprint and add their own innovative touches like fold-down balconies and BBQ zones on the swim platform so you're right on the water.
How would you describe the Schaefer Yachts brand?
The brand philosophy is centred around a commitment to excellence in every aspect of yacht manufacturing. This is a large, family-owned business that fiercely maintains quality control of the production process from end-to-end. They leverage the same leading international components as other premium brands for engines, mechanicals, whitegoods, and electrical components, but run everything else in-house. From 3D CAD modelling of new designs, production of moulds, vacuum infusion of hulls, joinery and hand-stitched finishing. Schaefer Yachts is committed to the artistry of yacht building and takes great pride in the attention to detail and hand-crafted elements that are present in every one of its yachts.
Can you share some company history?
Schaefer Yachts was founded in 1992 by Márcio Schaefer. The company started out as a small boatyard in Florianopolis, Brazil, but over 30 years has grown to become the largest yacht builder in South America, with over 3,500 boats delivered. They now export globally, and particularly into the US market. Today, Schaefer Yachts is a global brand with a presence in more than 20 countries. The
company continues to be run by the Schaefer family and is committed to producing high quality, innovative yachts that offer a luxurious and comfortable experience for their owners.
What initially drew you to Schaefer Yachts and made you want to bring the brand to Australia?
Schaefer Yachts Australia was launched in late 2021 by myself and my co-owner Andy Young. We were genuinely impressed with the design, functionality, and attention to detail across their entire range. After discovering Schaefer at the Miami International Boat Show pre-COVID and visiting the company's factories in Santa Catarina in Brazil, Andy was so impressed with the business that he and I ordered four boats from 33 to 51 feet to bring the brand into Australia. The German roots run deep in Brazilian manufacturing. With Schaefer Yachts we knew the product was strong but have since been very impressed with the professionalism of the yard, their post-sales support, and their capacity to scale production.
How would you describe the level of awareness of the brand across Australia and NZ?
Schaefer Yachts is a new brand in Australia, but awareness is rising rapidly, particularly in Sydney where many Schaefers are now regularly seen on the water. I find it's rare indeed to venture onto the water in a V33 without receiving many positive comments on the beauty of the boat, and lots of questions about the brand.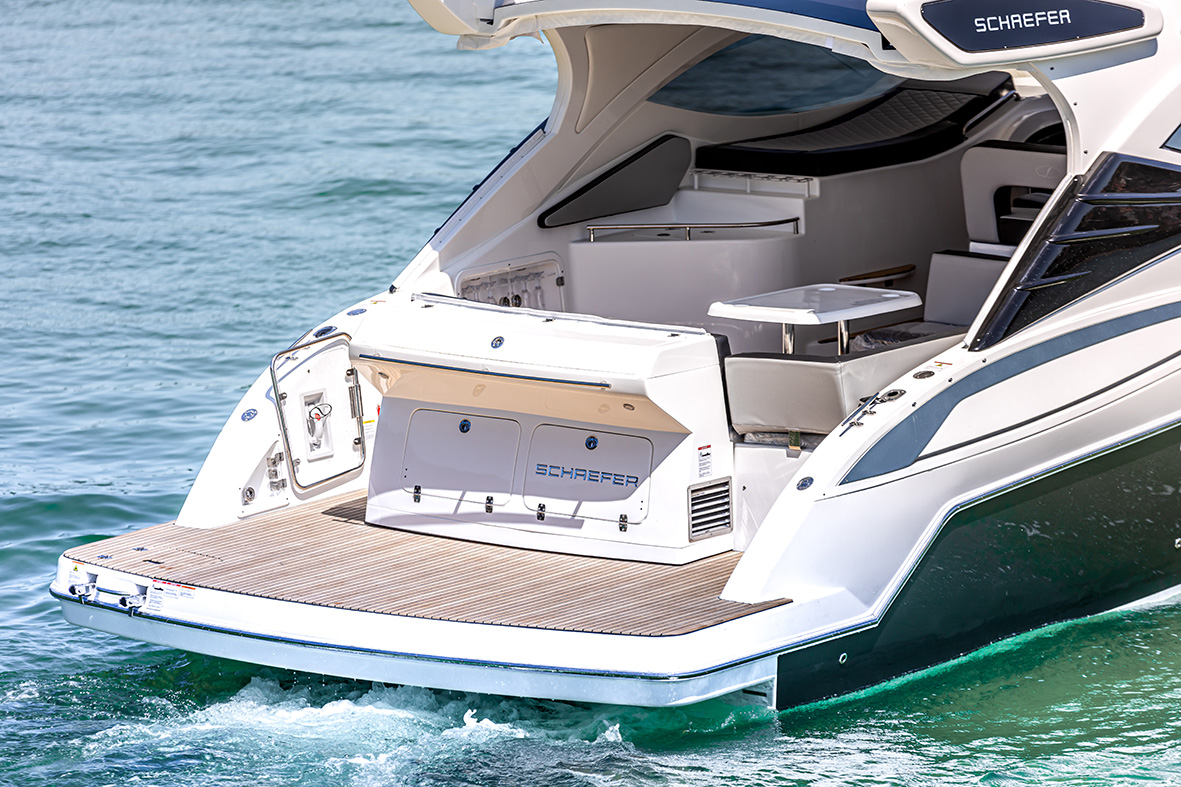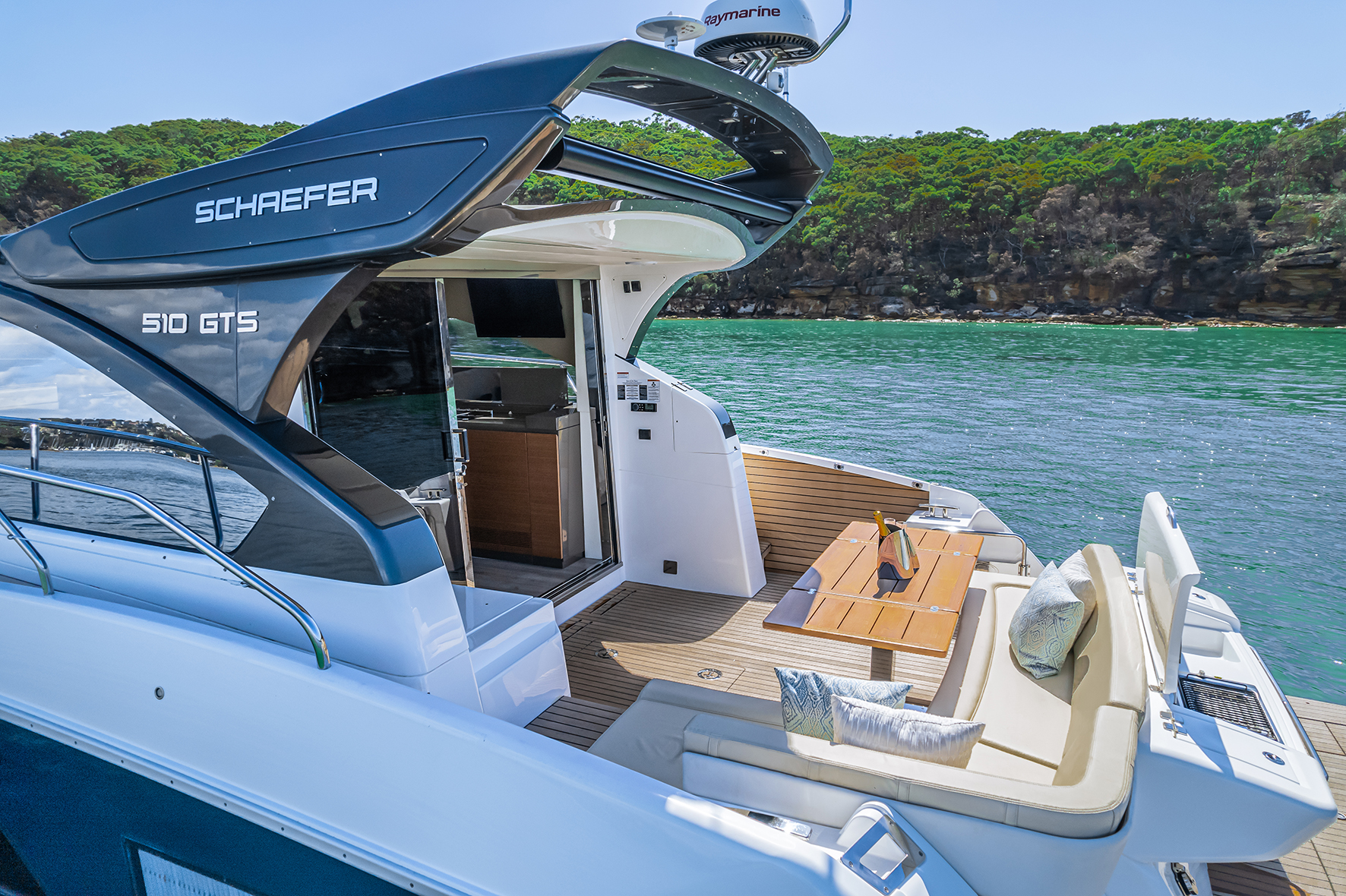 Top five key features across the entire Schaefer Yachts range?
Beautiful lines: Schaefer Yachts boats have beautiful lines that really stand out on the water.
Superior performance: Schaefer Yachts are built for performance, with sleek hulls that are designed for speed and stability. The yachts are also known for their smooth ride, manoeuvrability, and ease of handling.
Innovative design: Schaefer Yachts are known for their innovative design and attention to detail. The company uses advanced design technology and high-quality materials to create yachts that are both stylish and functional.
Comfortable spaces: The yachts in the range are designed to offer a comfortable and luxurious experience. The interiors are spacious and well-appointed, with high-quality furnishings and fittings.
Versatility: The Schaefer range includes a wide variety of models, from smaller day boats to large luxury yachts. This makes them suitable for a range of different activities, from day trips to fishing adventures to extended overnight stays.
Is there such a thing as a typical Schaefer Yachts buyer?
That's tough because no brand in Australia has the same breadth of product coverage. Given the breadth of the range, these boats appeal to a wide range of enthusiasts who are looking for different things. The smaller Schaefer boats compete with leading manufacturers of bowriders and small sports boats plus modern centre console boats. While our larger models from 40 feet to 80 feet compete squarely with luxury motor yacht brands. While there may not be a typical Schaefer Yachts buyer, the boats generally appeal to those who are looking for a premium boating experience. Generally, our buyers are looking for great design, performance, luxury and quality.
What do you find customers love most about Schaefer Yachts' vessels?
They buy for the looks, then love the functionality and ease of use. Schaefer Yachts are known for their high-quality construction and attention to detail. They are well thought out to make the most use of the footprint and maximise usability of the space, while incorporating elegant design features that enhance the overall aesthetics of the yachts. The yachts are easy to operate and optimised for both performance and comfort. Joystick controls are available on most models, and the sleek hulls and clean lines together ensure a smooth and efficient ride. Add a gyro to eliminate body roll at anchor and you've got a super comfortable boat. They comment on ride quality and handling, plus practical things like abundant storage and how many guests they can fit comfortably.
What are some of the key design signatures of Schaefer Yachts?
Some of the key design signatures of Schaefer Yachts include sleek and modern lines and an abundance of space. Schaefer Yachts make use of large, curved glass windows that provide unobstructed views of the surrounding water. This not only creates a sense of openness and space but also allows natural light to flood the interiors.
Talk to us about availability and build timelines.
Availability is a big drawcard. Australia has an abundance of other fantastic boat brands, but many have order books that are now sold out until 2024 or 2025. We think life is too short to wait that long for your ultimate new lifestyle purchase to arrive. Schaefer's production capacity means new-build slots are still available for 2023, meaning in many cases if you order now, you can have a brand new luxury boat built to your own spec and landed in Australia in time for next summer. That's unique at this juncture.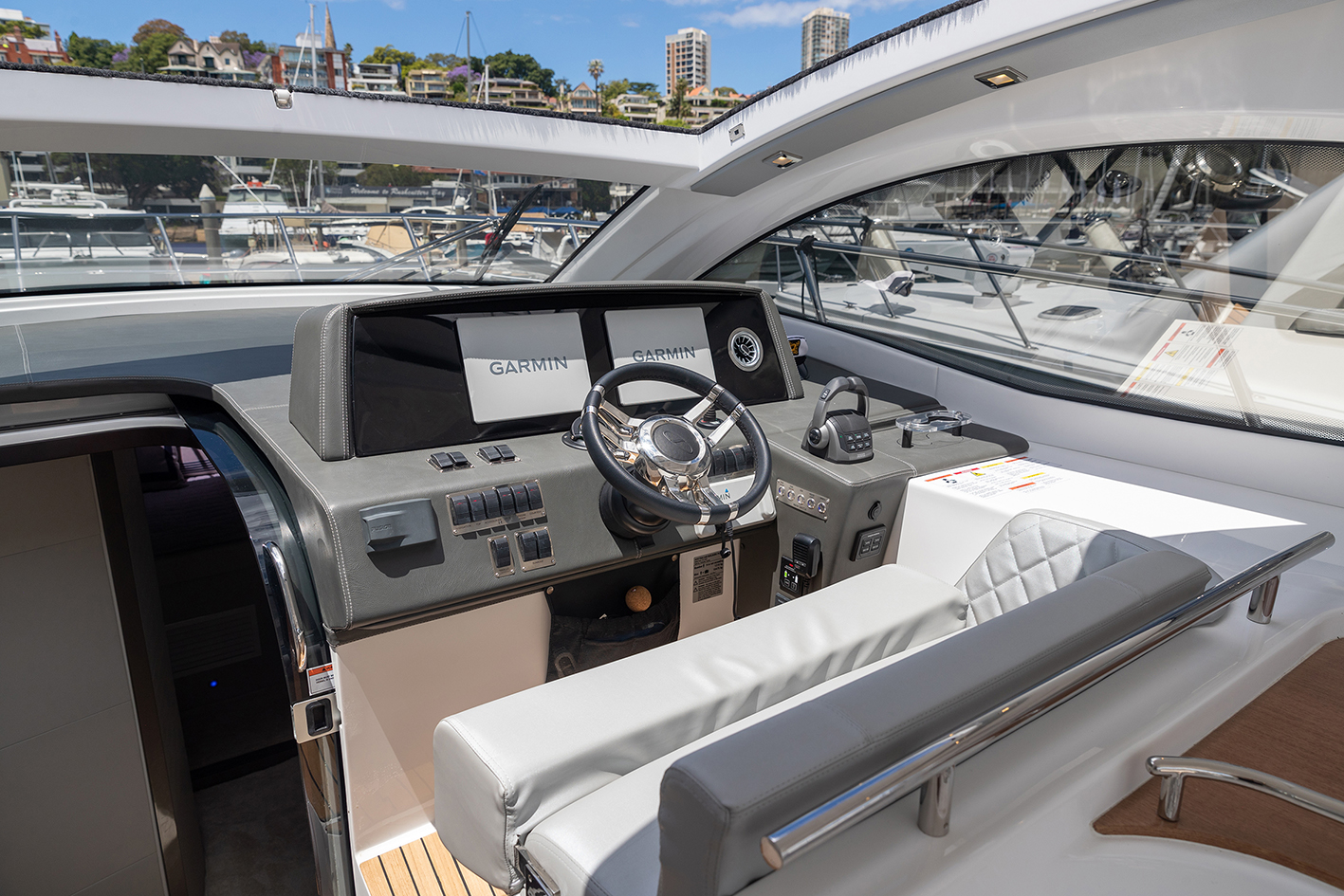 How many models are there in the Schaefer Yachts range?
The Schaefer Yachts range includes 12 models, covering a wide range of sizes from 30 to 83 feet in length. The models in the range include the Schaefer 303, Schaefer V33, Schaefer 365 (soft top), Schaefer 375HT (hard top), Schaefer 400, Schaefer 450, Schaefer 510 GTS, Schaefer 510 GT (Flybridge), Schaefer 600, Schaefer 660, Schaefer 770, and Schaefer 25M.
Which models are the most sought-after here?
The models we have found to be the most popular in Australia so far are:
Schaefer V33: The ultimate day boat.
Schaefer 375: Exceptional value and an ideal choice for boaters who demand the very best for entertaining family and friends in a small, easy-to-operate package.
Schaefer 400: This beautiful yacht attracts more enquiries in Australia than any other model. The two cabin 400 is available with either inboard or outboard.
Schaefer 510 GT and GTS: These luxurious and spacious 51-foot sports yachts offer exceptional performance and handling, with loads of space. The flybridge looks just as good as the sports cruiser while adding 360-degree driving vision and another entertaining zone.
We understand that there are yacht syndication opportunities available as another option for people wanting to part-own a Schaefer Yacht?
Schaefer Yachts Australia provide this option through our association with Boating Syndication Australia (boatingsyndicationaustralia.com) the largest syndication business in the country. The boat syndication process with BSA Australia provides a great opportunity to own a luxury boat without having to bear the full costs and responsibilities of ownership. We've also facilitated deals where new owners can utilise a syndicated boat now while they wait for their own new-build boat to arrive. In short, we're here to help you whether you'd like a whole boat to yourself or to own a share and spread the cost of ownership.
What are your plans for Sanctuary Cove International Boat Show?
We'll be back at both Sanctuary Cove International Boat Show (SCIBS) in May and Sydney International Boat Show (SIBS) in August this year in association with our new dealer Flagship International. At SCIBS we'll be focusing on our smaller models like the V33 and the 375HT. Then for SIBS we'll feature a wider range including our V33, 375, 400 and the 510 Sports and Flybridge.
Let's look ahead for the rest of 2023 and beyond. What's coming up with Schaefer Yachts in the future? Any upcoming vessels or news you can share with us?
After a great start in 2022, for us 2023 will be a consolidation year, further growing the number of Schaefer boats on the water here. We will continue to focus on responsiveness to what our clients need – getting your new boat to you quickly, flexibility of purchase options whether outright or syndication, and post sales customer service. Our buyers love and rave about the product, and we know that if we look after them, they'll continue to upgrade to larger boats. So right now, we're emphasising the range from 30 to 51 feet, then later we'll begin to highlight some of the larger models like the 600, the 660 and the amazing 770. For us, the latter is a showcase in what the brand can do, and the flagship of the fleet, though not quite the largest.
We're already a leading international dealer for Schaefer and have strong support from the manufacturer in Brazil. They have high hopes for the Australian market, and they love seeing their beautiful boats photographed and reviewed on Sydney Harbour and the stunning waterways of Australia. That means right now we have a lot of leverage. If you see a model you like, come talk to us and we'll call in all those favours to put together a great deal with the right boat to match your needs. So, you can start creating amazing memories on the water with your family.
Discover your new life of luxury at your nearest Schaefer Yachts Australia dealer or take a virtual tour online.
sales@schaeferyachts.com.au
0417 838 901
schaeferyachts.com.au
For boating news, features and interviews, subscribe to Nautilus Marine Magazine here.