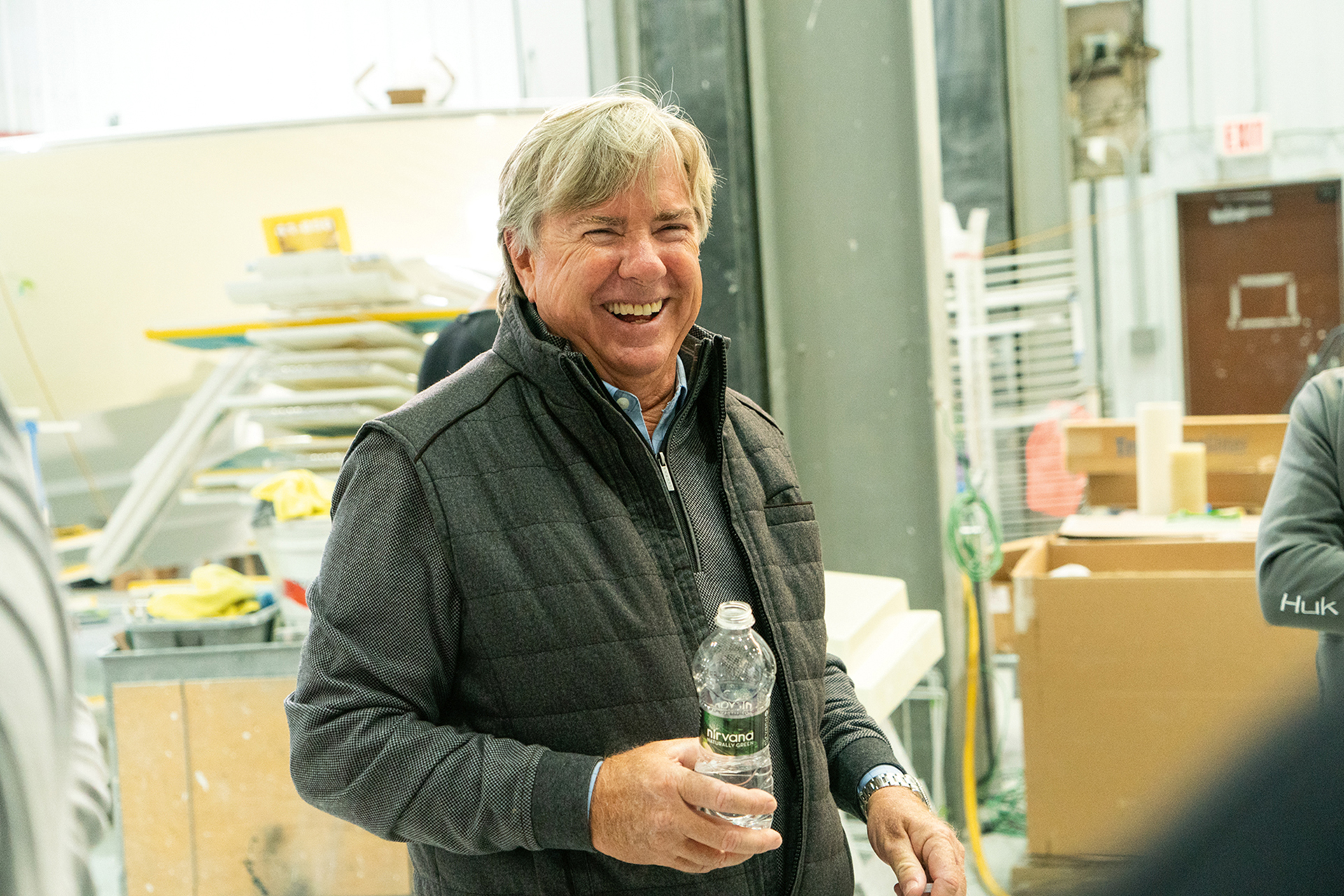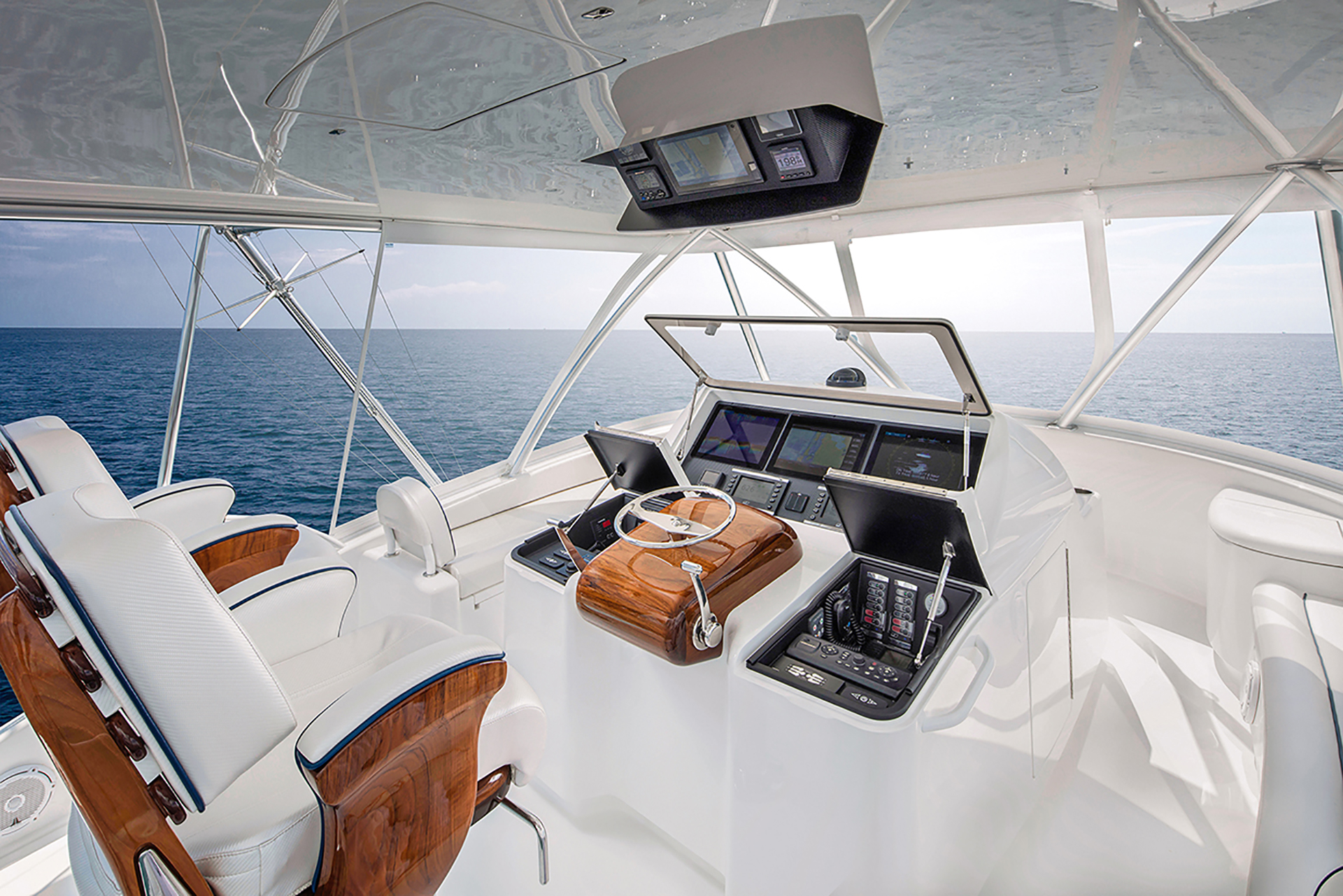 We talk to Short Marine Director, Ryan Short, about Viking Yachts and discover how the US brand is setting new standards in luxury sports fishing vessels.
"Vikings really are in a class of their own in sports fishing boats," says Ryan Short, Director of Short Marine in Sydney and Game and Leisure Boats on the Gold Coast, exclusive dealers for Viking Yachts across Australia and New Zealand. "Nothing comes close to them. Viking leads the way in terms of performance, innovation, engineering, and comfort in larger sports fishing boats. The finish and attention to detail within Viking boats is also exceptional and reflects true craftsmanship." We caught up with Ryan to discuss what makes Viking Yachts such special fishing vessels and his recent trip to the US with Viking for the Fort Lauderdale International Boat Show (FLIBS).
How would you describe the Viking Yachts brand? The Viking philosophy is 'to build a better boat every day'. It's why Viking leads the way in performance, innovation, engineering, and luxury. They're building the best boats in the world for sports fishing up to 90ft. Vikings are very good sea boats. We have rough seas here and that's what Vikings are designed and built for. They're such a dry and comfortable ride.
Can you share some brand background and company history? Viking is a family owned and run company that has been around for almost 60 years. Viking Yachts co-founders Bill and Bob Healey were awarded the prestigious Lifetime Achievement Award at the International Boating Industry (IBI) and METSTRADE Boat Builder Awards in 2019.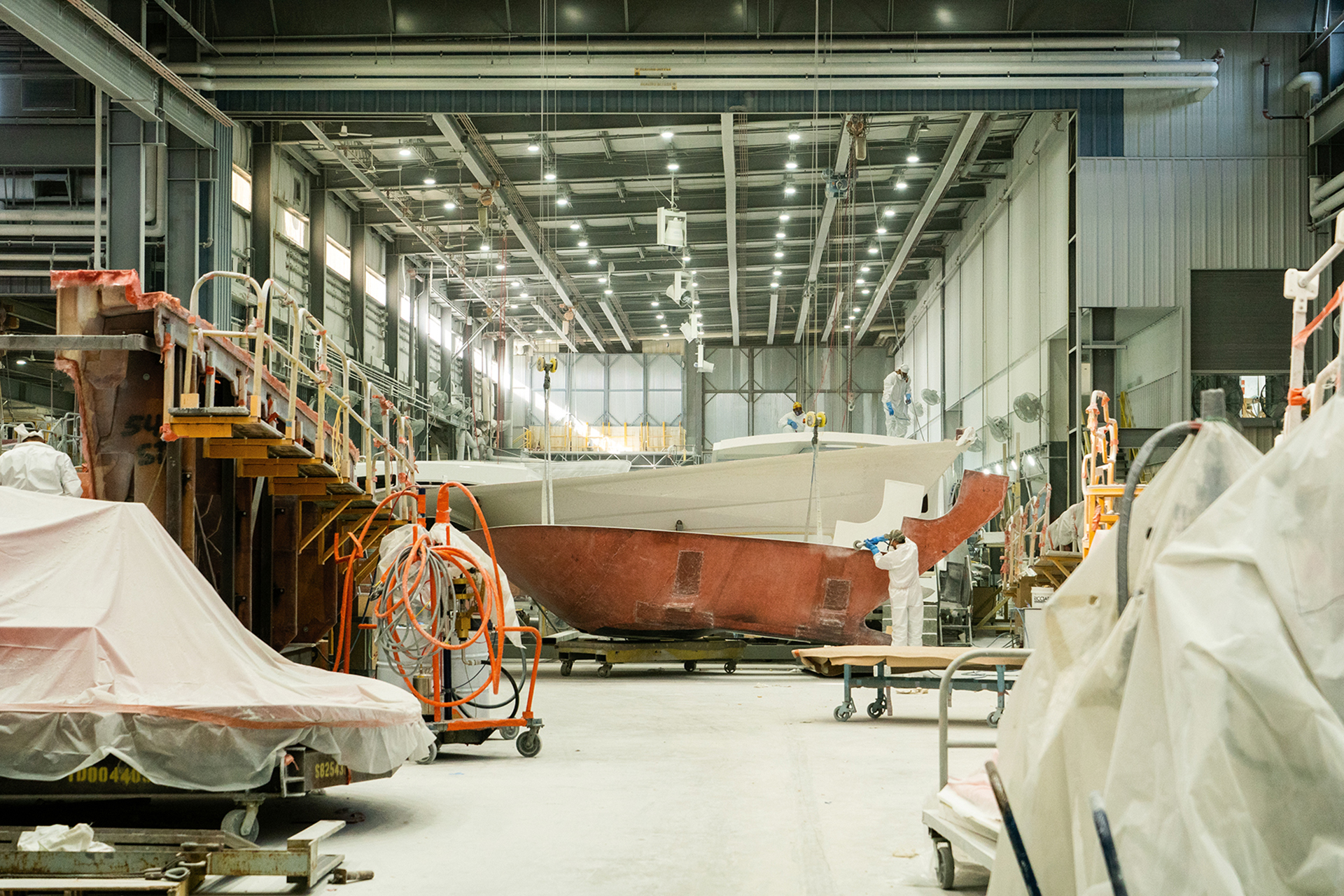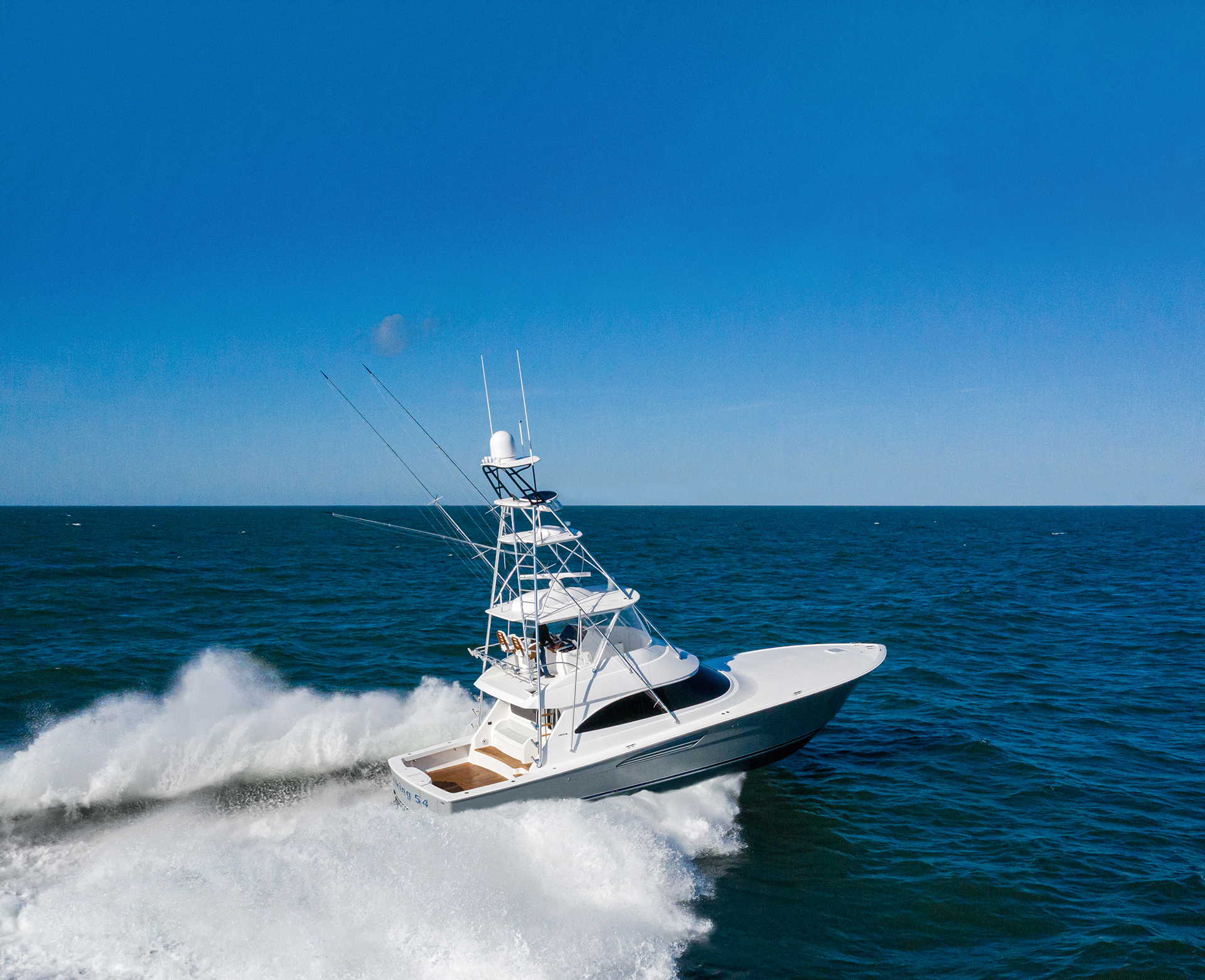 Viking has really put their foot on the gas pedal in recent years. Next to some of their competitors, Viking really is in a class of its own, no other sports fishing boat comes close to them. Viking has around 1800 staff across three impressive facilities in the United States. Two in New Jersey, in New Gretna and Mullica, where the boats are built, and their service facility in West Palm Beach, Florida. Pat Healey, Viking's President and CEO is also a really inspirational guy and a keen fisherman. As Pat says, if he's not building a boat, he's going fishing!
Pat is also very driven to have a new launch every nine months, whether that is a new model or a remodel, which also ensures the brand stands out. However, you can see that same passion coming through everyone at Viking. You talk to anyone who works at Viking and they will tell you they are building the best boats in the world. It's not arrogance, they all believe that and are achieving that goal.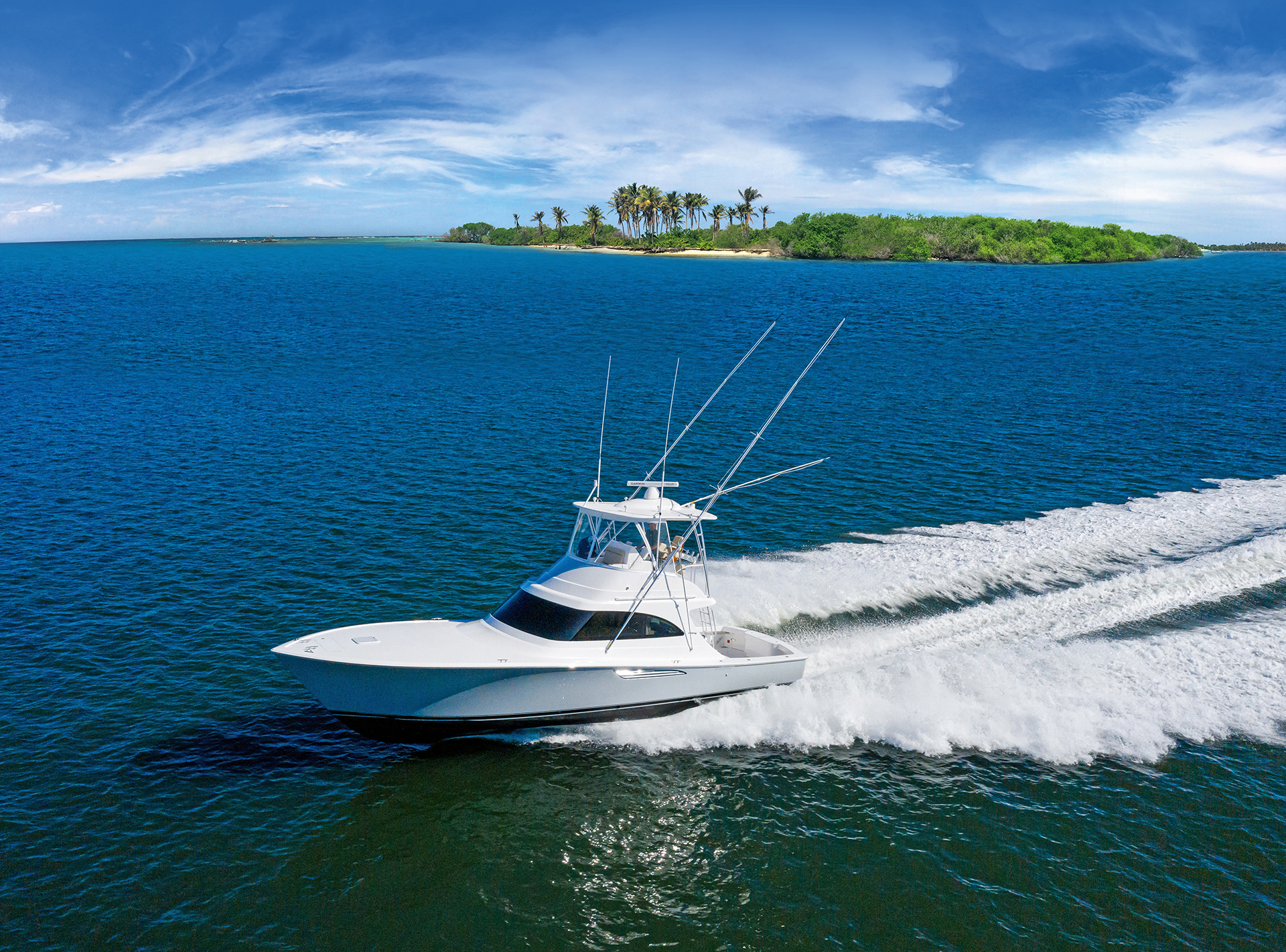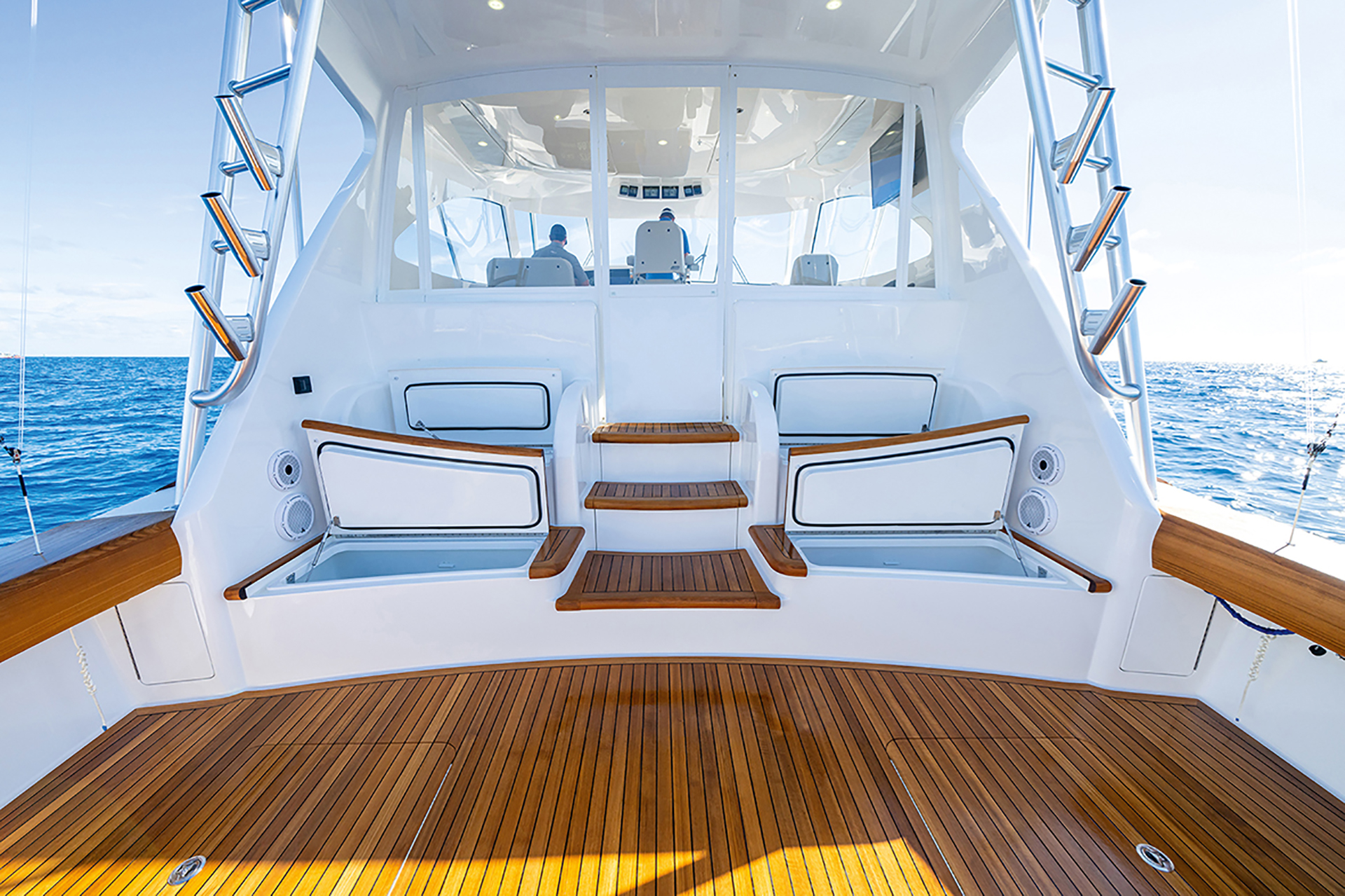 What about awareness of the Viking Yachts brand in Australia? It's certainly growing but it definitely isn't where it could be. There is a lot of brand loyalty with Vikings though. Anyone who has owned a Viking won't go with anything else now, which is a credit to the brand. What we're really working on at Short Marine is trying to bring the brand to customers who have never experienced the Viking brand before.
Our focus is on making it easier for customers and making them aware of the quality of Vikings and that they're represented by an established dealer with a full service offering. Buying the right boat is one thing, but ensuring you purchase it from someone who will make your boating experience afterwards easy and enjoyable, is just as important.
Short Marine is the exclusive Australian and New Zealand dealer for Viking Yachts and Valhalla Boatworks, Viking's centre console brand. How did that relationship come about? We've been representing Viking Yachts for just over a year now, ever since Short Marine purchased Game and Leisure Boats on the Gold Coast. We'd had a good relationship with the former owner Graham McCloy and he had gotten to the point where he wanted to sell his business.
At Short Marine we want to represent the world's best brands in every category and Game and Leisure Boats had been representing Viking Yachts for some time and we saw all the opportunities of being aligned with the Viking Yacht brand. We were really excited to bring Viking Yachts onboard as we had customers within the Short Marine family who were outgrowing their Grady-White vessels and were looking for luxury large sports fishing vessels. Viking Yachts are the natural next step up for those customers as they are hands down the best in the world.
How do the Viking Yachts values fit in with your philosophy at Short Marine? We share a lot of similar values. Viking is a third-generation family business; it was founded by Pat Healey's father and his brother in the 60s. Now, Pat's sons Sean and Justin are involved with the business as well, and they're about the same age as Sam [Short, Ryan's brother and Co-Director of Short Marine] and I. We also come from a third-generation boating family.
Another thing that is really impressive about Viking Yachts is their unmatched approach to customer service and support. The way they stand by their customers, and their products in terms of servicing and warranty, is impressive. At Short Marine we have a similar approach, we want to offer the best boating experience in the world. That means taking care of everything our customers need boating-wise, we have all the marine trades and do all the servicing in-house. We also try keep them in the Short Marine family when they're ready for a new boat.
Is there such a thing as a typical Viking Yachts buyer? Most of our Viking customers are keen sports fisherman who want to fish in comfort with the ultimate quality boat. They also appeal to customers who don't fish as often but still want the best boat to enjoy with their family and friends.
The seakeeping ability of the Vikings is a big part of their appeal. While many customers will use their Vikings to go day fishing, you can comfortably spend long periods of time on the boat, thanks to second generators, large fuel tanks, reliable engines and high horsepower. If you want to travel up to the Barrier Reef, around the Kimberley or over to New Zealand, you can do that comfortably.
Most customers that are looking at buying a Viking, will likely have had a few boats before. They are passionate about boating. They want to own the best boats and having great experiences on them.
How would you describe the living spaces on board these vessels? When you are onboard a Viking, you really do get a sense of being on a boat with a design that has been absolutely perfected. You can tell Vikings are designed by people who understand what it's like to fish and live aboard these boats. There is lots of open space in the layouts and you never feel cramped. All the fixtures, fittings and fabrics are of the highest quality as well.
Customers have a meeting scheduled with the interior designer months before the boat goes into production to discuss layout configurations, fabrics and colour combinations. It's a pretty special part of the journey of building a Viking Yacht and a process customers look forward to.
Customisations can range from additional seating to even having the bed face a different way in in selected staterooms or the master cabin. The design process overall is something that customers are impressed with. Being able to design a boat that suits them with minimal compromises, down to a choice of door handles and timber finishes.
What are the most popular Viking models in Australia? The Viking Billfish 46 is a popular model for us. It's a really good size of boat for day boating, although you can comfortably stay overnight as well. It's fast, it's dry and it appeals to game fishermen. We've also had lots of interest in the larger boats like the 64 and 58 and have a few on order. We also have a 54C on order, which is due to arrive here in April. This impressive yacht won the Best of Show award at the Fort Lauderdale International Boat Show (FLIBS) when it made its debut in 2020. The Viking range now goes all the way up to 90ft. We hope to start seeing some larger models here Down Under in the years to come!
You recently attended the 2022 Fort Lauderdale International Boat Show (FLIBS) with Viking Yachts. How was the Show? FLIBS is the biggest boat show in the world and the Viking Yachts on-water display at FLIBS this year was on another level. The Viking Yachts on-water display at Fort Lauderdale was on another level. We spent a few days on the Viking stand and it was seriously incredible. It was one of the busiest and biggest displays at the Show, in one of the best locations. The Viking team also makes you feel really welcome, it really is like a family. We went out for dinner with Pat Healey, his sons and the International Sales Manager on the first night of the Show, which was really enjoyable.
However, what was really special was having some of our customers who flew all the way over from Australia for the Show. They attended for a few days and got to meet the Healeys. We then went with them to West Palm Beach for sea trials after the Show. Lastly, we flew up to New Jersey to tour the Viking factory. We all stayed in the same hotel; it was a really great bonding experience with our customers and with our staff that came over.
Our customers were over the moon from the whole experience. It's something we'll do every year with our customers because it's so beneficial. Another thing we'd also like to do for our Viking customers in the future would be to facilitate another incredible experience that Viking offers. When a new boat is ready, Viking encourages customers to take delivery of it over in West Palm Beach. Viking will allocate customers a captain for the week and take the new owner out to fish The Bahamas and get comfortable with the boat. Afterwards, they will take the boat back to the service facility and fix any little issues before putting it on a ship for delivery. It's a really cool experience for the buyer and means the boat is pretty much turn-key when it arrives at its final destination.
Which Viking Yachts vessels did you attend sea trials for and how was that experience? It was fantastic! We spent the day with the Viking team and some of our customers at West Palm Beach. We got to experience three of the new generation design models – the 54, 58 and 64 convertibles. The Viking 64 Convertible was really impressive. We got up to 48knots [88.9km per hour] with current. These new generation models have a whole new design shape. They stay nice and flat, you're not getting that bow raise up, which maintains visibility really well and makes for a soft, dry and cushioned ride. Scan to check out the Viking Yachts Range.
Finally, tell us a little bit more about your tour of the Viking factory. That was your second visit to the factory, what were your impressions? The culture of the Viking factory is amazing. Everyone there loves working for Viking, and there are many employees whose families have worked for the company for generations. That's why they're building such world class boats. There are no short cuts at all taken in the build, and the attention to detail within the finish and construction is incredible. Yet at the same time they're also incredibly efficient at building these boats. They are typically building around 80 Vikings and 100 Valhallas a year. Viking runs an impressive operation in that factory that's for sure.
Visit shortmarine.com.au
For boating news, features and interviews, subscribe to Nautilus Marine Magazine here.