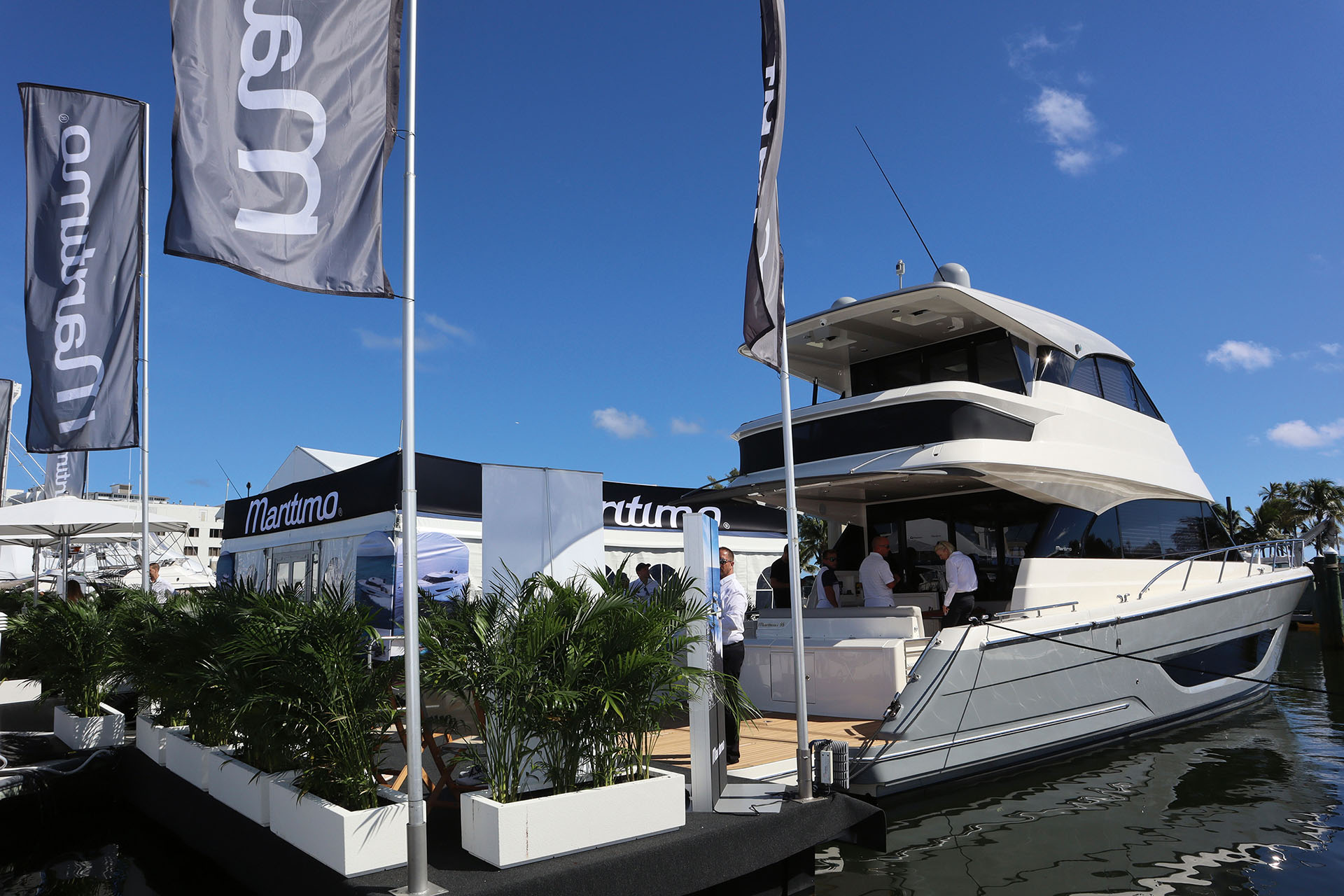 We caught up with Maritimo Managing Director Tom Barry-Cotter following the luxury motor yacht brand's success at the renowned Fort Lauderdale International Boat Show (FLIBS).
What feedback did you get from Maritimo customers at FLIBS? The excitement and interest of stepping aboard the M55 and S55 which were on display at FLIBS meant our VIP tours were booked out well in advance. We had some guests do the rounds at the show and eventually come back to Maritimo to sign up for their first Maritimo, which was great to see. Some guests even had all the other brand's wristbands on to show us how extensive their research had been! Sales far exceeded our expectations. It's testament to the excitement these two new models have brought to the US boating industry.
In your mind, what sets FLIBS apart from other boat shows around the world? FLIBS is the biggest on-water boat show in the world and it's where a lot of visitors go to see the latest from brand's like Maritimo. It's our second biggest show after our home show, Sanctuary Cove International Boat Show (SCIBS).
What kind of planning and prep goes into a boat show such as FLIBS? Similar planning to SCIBS goes into this show. Our American Pacific teams have managed this show for many years now and they work closely with our head office team to ensure the brand is well represented and closely mimics the quality on show at SCIBS.
How would you sum up Maritimo's international reputation? Maritimo has a very heralded international reputation in Australia, New Zealand, and North America, after nearly 20 years of making a name as a leading long range cruising motor yacht builder. We are only beginning our story in many other parts of the globe, but are quickly attracting attention, providing clearly fit for purpose, all weather, long range cruising capabilities with an exceptional Australian build pedigree. Our recent expansion into Japan is testament to the quality we provide across our range.
Six Maritimo vessels were recently just shipped to the US for delivery, which is quite impressive. Can you talk us through what's involved in delivering your vessels to the US? It takes many months of planning to bring it all together with many departments involved. The shipping departure dates can change all the time as well, and our team must be ready to move when the time comes, or we can miss the boat, literally.
Once the vessels pass their vigorous testing and sea-trials, the boats are professionally wrapped ready for shipment. We usually export from the Port of Brisbane, and our yachts are taken up there via water a few days before. Here they are lifted to the shipping vessel by the port crew who then secure the vessels for their long journey across the Pacific.
Once they arrive at the receiving port, our predelivery team at that location then prepare the vessel for the Maritimo handover experience with their excited owner.
Why do Americans love Aussie boats? The American markets understand the conditions we build our motor yachts for and therefore feel assured in the quality we provide for a luxury ocean-going vessel. Maritimo was also first to market with the enclosed flybridge, and this feature is well received in the varying climates of the Americas. So yes, it's a combination of how we build the vessel and the design philosophy that has made Maritimo so popular there.
What are some key areas of focus for Maritimo in 2023? Maritimo have an exciting year planned in 2023, with the global launch of our flagship M75 Flybridge Motor Yacht and S75 Sedan Motor Yacht coinciding with the beginning of our 20-year anniversary celebrations. The M75 and S75 models will be the largest, most advanced, and most luxurious models that Maritimo has ever crafted.
The year will see us celebrate everything that Maritimo has accomplished over two decades, and honour those which brought the brand where it is today. It will be a time that is incredibly exciting for all of our team and the Maritimo community, and a milestone we are all incredibly proud of.
Visit maritimo.com.au
For boating news, features and interviews, subscribe to Nautilus Marine Magazine here.