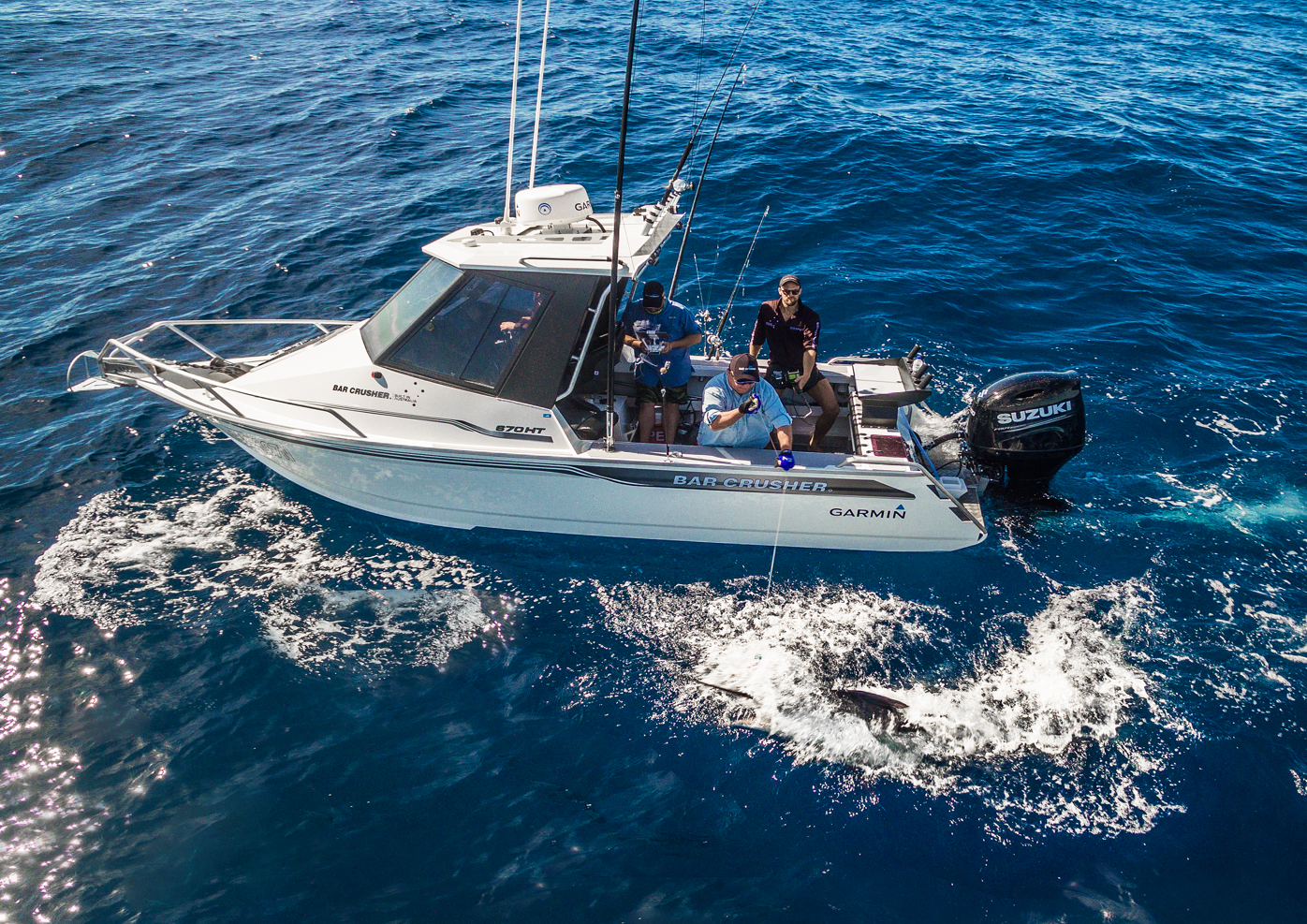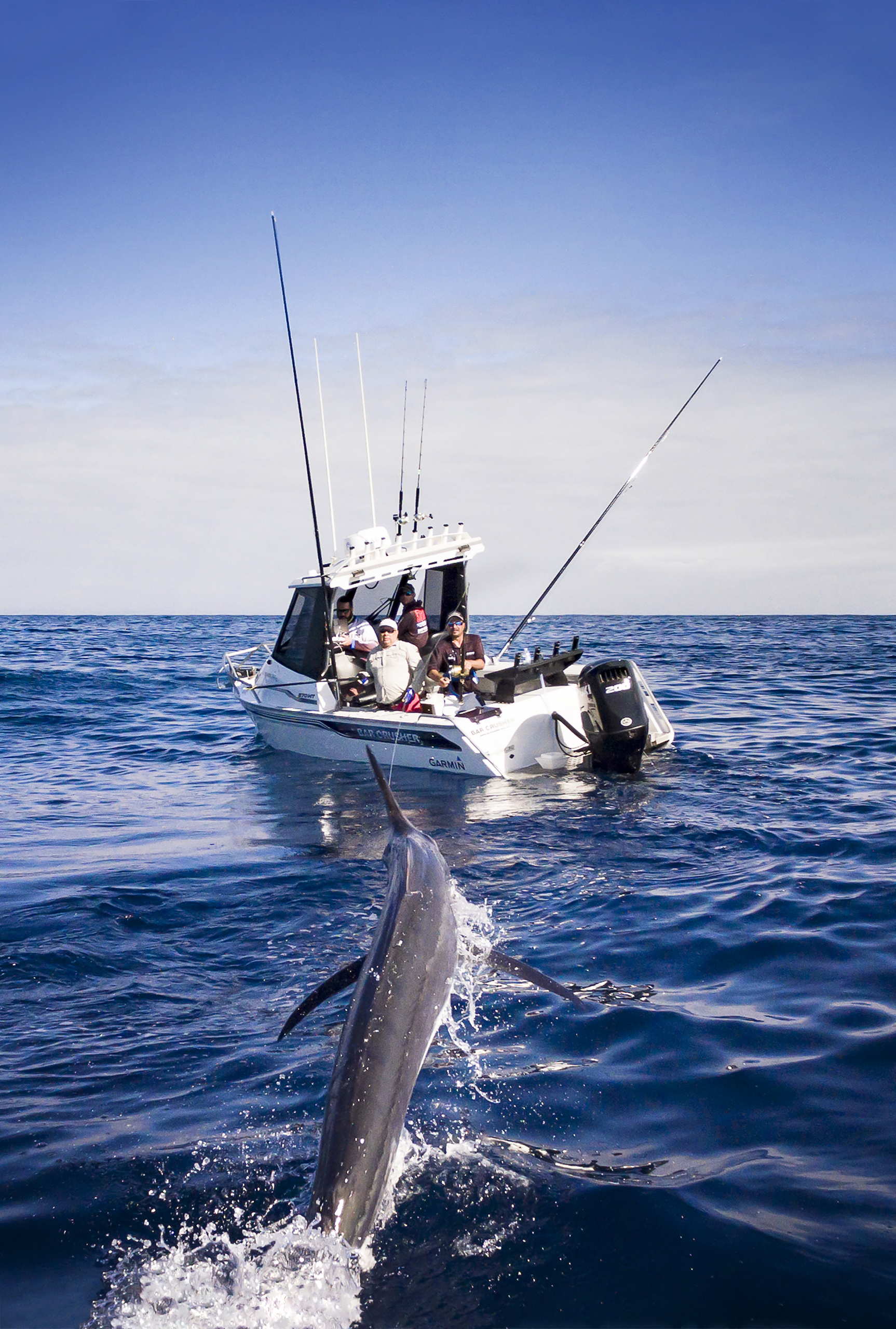 Hardtop boats have never been more popular. Many boat brands now offer at least one hardtop model and there's a wide range of specialist fishing hardtops on the market across both aluminium and fibreglass.
So, are hardtop boats the ultimate offshore performer? Firstly, let's ask the question: What exactly is a "hardtop boat"?
There are many boat configurations including open boats, side consoles, centre consoles and cabin boats. A hardtop is considered a cabin boat, but there's more to it… There are different types of cabin boats and the term describes a boat with some type of cabin or protection from the elements towards the bow.
Cabin boats in general are well suited to offshore fishing. They offer the driver, passenger and crew protection against salt spray and bad weather, a regular occurrence offshore.
The problem with many cabin boats, however, is that the protection sometimes doesn't go far enough. Some of them simply have a windscreen, while others have a windscreen and soft "bimini" top, while many also have "clears" to join the windscreen and bimini, creating an enclosed area.
That's a pretty good way of creating an area to protect the passengers, but is it enough? That's where the hardtop cabin boat comes in. Think of the hardtop as a more permanent and superior solution to weather protection. The soft plastic clears are replaced with a windscreen and windscreen wipers, while the soft bimini top is replaced with a – you guessed it – a hardtop.
The hardtop creates a seamless transition from the hull to the top of the boat. There are no leaky clears or soft tops coming loose or flapping around in the wind. To me, it offers the best protection for a boat of this style.
Some of the larger hardtop models also feature an enclosed cabin. These are popular in Australia's southern states and New Zealand where cold weather is more common. Enclosed cabins, as the name suggests, allow you to close a door and remain nice and warm inside while travelling or fishing. It's also worth noting many of these hardtops are trailerable boats.
Advantages of hardtops
Fishing from a hardtop offers several advantages and, like any boat, a few compromises. There's no such thing as the perfect boat that offers everything, but for someone who enjoys offshore fishing and wants a trailerable boat, the hardtop comes pretty close.
Haines Hunter Managing Director John Haber says the latest 675 Hard Top "offers the luxury of full protection from the wind, sun, rain and sea spray with greater vision."
"A key advantage is not having to replace clears every five-to-seven years," says Haber.
Gavan Daly from Sydney's Webbe Marine is an Australian dealer for Stabicraft and agrees that hardtop boats offer the best all round protection for offshore fishos.
"When fishing offshore through the winter months, this region (Australia and New Zealand) presents some incredibly harsh conditions," says Daly. "A comfortable fisherman is going to be someone who naturally stays out on the water longer."
Daly also suggests fishing from hardtop boats controls the unpredictability of weather and allows fishos to head out through four seasons of the year in rain, hail or shine.
"Our customers always comment on how much the vision has improved through the use of our hardtop models with clear glass and sliding windows as you can see the water so much better compared to Perspex," he says.
Another advantage of hardtop boats is the ability to add more options, including accessories, on top.
Cruise Craft Boat's Nathan Nagy says: "Hardtop boats can be customised to meet the specific needs of individual fishermen, with options for adding features such as radars, solar panels, sliding extensions, electronics, and other accessories."
Haines Hunter's John Haber agrees and says it provides greater real estate onto the dash area for essential fishing accessories.
Another advantage of owning a hardtop boat is its versatility. Not only are they fantastic fishing boats, they also offer plenty for the family.
The spacious cabin offers the family protection from the weather, while most hardtop models have a bunk. Some of the larger models will have enough space to camp overnight. This is often the case in the larger enclosed cabin models. They have the added advantage of staying warm at night if you're in a cold climate.
Nagy says a hardtop boat offers several features for both family boaters and fishos, making it a great "crossover" boat.
"For family boaters, the hardtop provides protection from the sun and weather, allowing for a more comfortable and enjoyable experience on the water," says Nagy. "The hardtop also offers better visibility, making it easier to navigate and spot potential hazards."
Drawbacks of hardtops
What about the disadvantages of a hardtop boat? As I mentioned, every boat is a compromise and hardtops are no exception.
Garage height is a problem many people run into (excuse the pun). Hardtops are high boats compared to soft cab boats and centre consoles. As such, unless you own a big garage or store them outside, they may not fit, and alternative storage may be required.
They're also typically heavier than other boats. Being an offshore-capable boat, they're usually in excess of 6m and have more fibreglass or aluminium, which adds additional weight for towing. Thankfully, many people own larger 4WD dual cabs or even larger "trucks" from the US that are more than capable of towing most hardtop boats.
Hardtops can also be hot in warmer climates. Being more enclosed, they often stop cool air from circulating, a necessity in the tropics.
Most boat companies have solved this by adding sliding windows and pop-top windows on the hardtop for air flow. These additions work well and allow fishos to take advantage of using hardtop boats in places such as the Great Barrier Reef for extended trips.
Choosing a hardtop
Haber says it's important to make sure the hull still rides well with the hardtop and the top itself has enough light entering the glass, especially at night. "Tinted glass poses a real vision problem and can be dangerous," says Haber.
Haber says the hardtop must be solid to be able to handle the pounding of the boat when running in heavy seas. "The hardtops are under a lot of vibration stress so having extra heavy duty supports is a must," he says.
Nagy says, first and foremost, buyers should consider the size and weight of the boat as well as its handling capabilities to ensure it can handle the conditions they plan to encounter offshore.
"You should also consider the boat's hull design and construction materials as well as the quality of the components used to ensure it is durable and able to withstand the harsh marine environment," says Nagy. "Other important factors to consider include the boat's fuel efficiency, range, and storage capacity, as well as its safety features. Finally, buyers should take the time to test drive the boat and inspect it thoroughly, both inside
and out, to ensure it meets their expectations and requirements."
Gavan Daly from Webbe Marine says longevity is a key factor when choosing a hardtop boat. "For many of our customers this is their penultimate fishing boat. The length of service our boats offer and resilience to the harshest conditions is legendary," says Daly. "As avid boaties, this brings great confidence to ourselves and also our families and friends!"
Serious fishing boats
Hardtops tick most boxes as a dedicated offshore fishing boat. Firstly, the majority of hardtops are large enough to tackle most conditions offshore. Of course, it should go without saying, you should always cancel a trip offshore if the weather becomes too dangerous or you doubt your capability.
Most hardtops are designed specifically for fishing and are large enough to accommodate all of the essentials. Some of these essentials include a large dash area with a full suite of marine electronics, with enough fishing space for three or four anglers, a bait board, a live well, seating, rod holders and plenty of storage.
The hull design is another factor of a well-designed hardtop boat. Having a stable boat is essential for fishing. For example, a boat such as Bar Crusher's HT Series, available across a range of sizes, offers its Quickflow water ballast technology to ensure each boat is extremely stable at rest, while still offering a smooth ride under way. It's the best of both worlds.
If you want the best performing, trailerable boat designed specifically for fishing, it's hard to beat a hardtop.
My advice is to start with a reputable boat brand and ensure your chosen boat includes a good mix of fishing features and performance. Having a safe boat with the protection of a hardtop, and a full suite of fishing options, plus the ability to tow it where you choose, is a dream come true for many fishos.
5 of the best
Bar Crusher HT Series
Aussie boat brand Bar Crusher burst onto the scene over 20  years ago. Bar Crusher's HT series comprises a range of bullet-proof Fishing Weapons designed and built for serious anglers. From crossing coastal bars to venturing offshore for marlin and tuna, to overnighters on the bay chasing snapper, right through to boating with the family, these boats handle it all in complete comfort.
Constructed from heavy duty, high-tensile 5mm (bottom sides) and 4mm (top sides) marine grade plate aluminium, each model features Bar Crusher's high-tech Waveslicer deep-V hull for a smooth ride. Other features include the expertly-engineered Rigideck sub-floor system for maximum hull strength, and Quickflow water ballast technology to ensure each boat is extremely stable at rest.
The massive cockpit fishing area is ready for serious action too – generous internal depth with secure toe holds, Game Lock coaming for a comfortable fish-fighting position, step-through transom, marlin board with berley bucket, rod holders, livebait tank with viewing window and more. Full-length, large-volume storage pockets easily accommodate tagpoles, gaffs and other gear, and the fully-welded and sealed checkerplate deck is extremely easy
to clean. Available hard top models include: 585HT, 615HT, 670HT,
730HT and 780HT.
Visit barcrusher.com.au
Stabicraft 2250 Ultracab WT
Stabicraft engineers have designed a Walk-Thru version based on the proven 2250 hull. The result is an international design award and exceptional demand. This is the ultimate beast for hardcore adventurers with proven rough-water performance, strength and stability.
Features include a 3-piece Walk-Thru Door that is an engineering masterpiece. When closed, the door seals tight against the super-structure of the cabin. It is an easy 3-step operation to open and then lead out onto the bow deck area. This thoroughly tested door design and ergonomic headroom make access both forward and aft safe and easy.
Stabicraft's unique tri-mount transom design gives customers the ultimate flexibility when choosing their preferred outboard set-up option. The weld in outboard mounting bosses has been cleverly engineered in a way that you can adjust for height regardless of twin or single outboard solutions.
The walk-thru door system opens up onto a unique forward utility deck which is surrounded by handrails for complete safety. The hatch in the floor is great for storing ropes, there is concealed access to your winch system and even a couple of Stabicraft Multiholders for your drinks and tackle. By adding the optional 3-step bow ladder you can turn this deck area into a great way to load/unload both gear and people.
Visit stabicraft.com
Yellowfin 6200 Hard Top
This hardtop is one of the most popular models in Yellowfin's lineup and for good reason. It offers 360-degree fishability, with no bounds on your offshore ventures thanks to the spacious cabin design making weekend fishing marathons a breeze.
Hand-built in Australia using the highest marine grade aluminium, Yellowfin Plate Boats are not only built for strength within but also with the finest eye for detail. Built with up to 6mm bottoms and the Offshore HD Hull, Yellowfin Plate Boats are seriously tough.
Construction-wise the Yellowfin range features a fully welded checker plate floor with a box section floor frame for extra strength. The 'Marine Core' construction ensures that strength truly does come from within with a sub frame rib structure of longitudinal and latitudinal ribs made of 6mm vertical stringers and 5mm horizontal ribs.
Loaded with features and optional extras, Yellowfin's 6200 Hardtop and the full range of plate boats make a great choice for serious fishos.
Visit yellowfinplateboats.com.au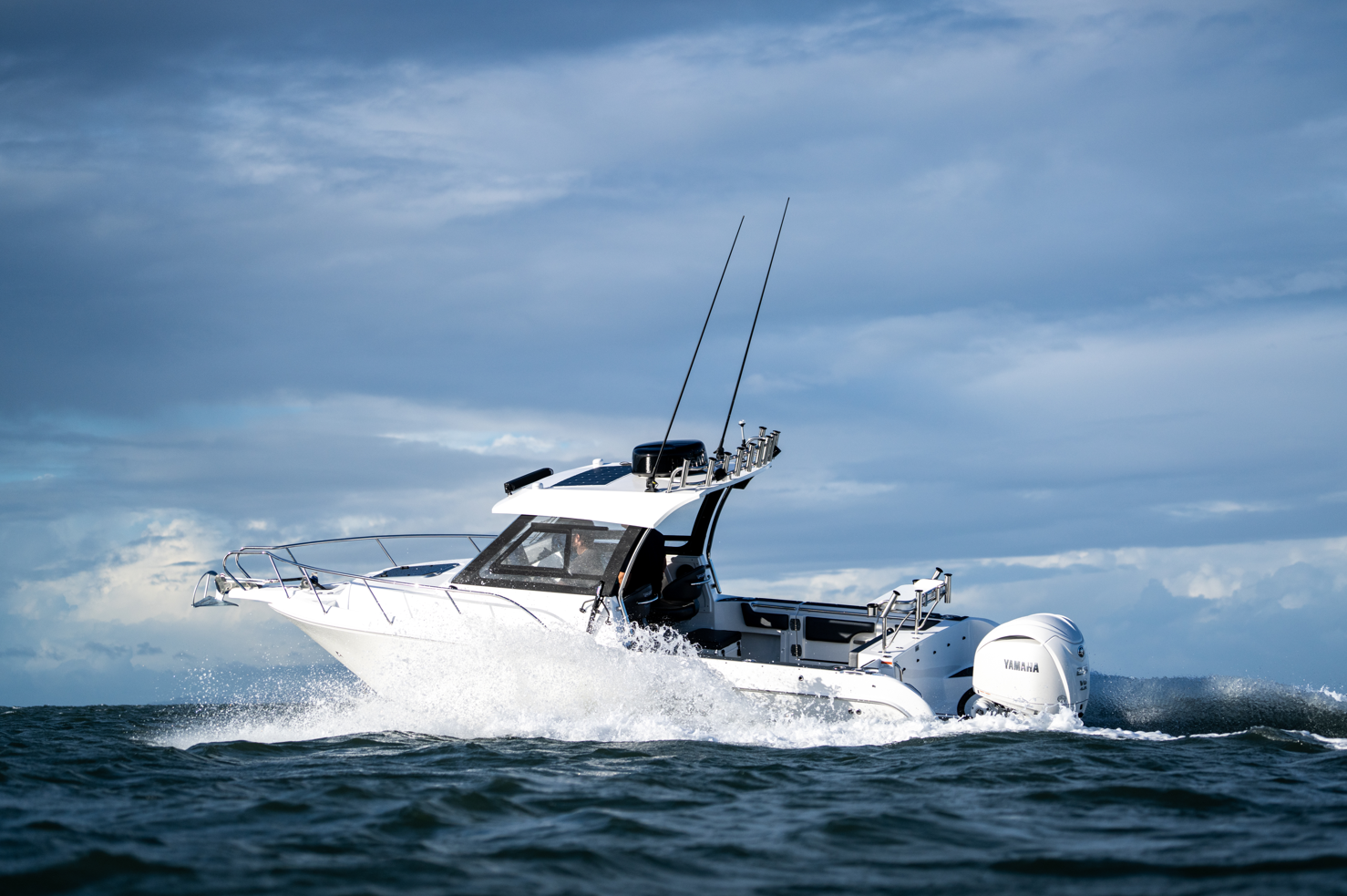 Cruise Craft E695HT
Boasting a range of cutting-edge features such as the CCB PanaView windscreen, next-gen hull design, Fibreglass Moulded Side Door, and Centralised Bait tank, the E695HT is sure to impress even the most discerning boating enthusiasts. With its captivating design and exceptional performance, the E695HT is guaranteed to turn heads on the water.
Featuring a beam of 2.48 metres and a tow weight of under 3 tonnes, this package is the perfect fit for boating enthusiasts who own a standard family 4×4 with a 3.5-tonne towing capacity. It has been designed primarily for fishing purposes but with the comfort of families in mind. The spacious deck area provides ample room for fishing activities, while the generously sized cabin area and seating create a convenient and comfortable boating experience for all.
Visit cruisecraft.com.au
Haines Hunter 675 Hard Top
The 675 Hard Top from Haines Hunter has been designed for the offshore fisherman who loves the convenience of adding and removing clears but wants the protection and convenience of a fully-moulded hard top.
The Hard Top caters for a broad range of serious offshore fishing requirements right around Australia. The 675 Offshore Hard Top also features a fully-customised moulded dashboard and a dive door which is fast becoming a must for keen offshore boaters. It is also capable of fishing six large adult anglers in comfort.
A dive door allows easy access in and out of the boat as well as making it easier when bringing in those large fish. Two large live bait tanks with view windows and easy access hatch doors provide added versatility
There's plenty of room to move around in the large deck space and there is the added benefit of the optional removable, rotating leaning post for stability while fighting those big fish. It also features 11 overhead rodholders and is equipped with Rockford Fosgate speakers.
Visit haineshunter.com.au
For boating news, features and interviews, subscribe to Nautilus Marine Magazine here.